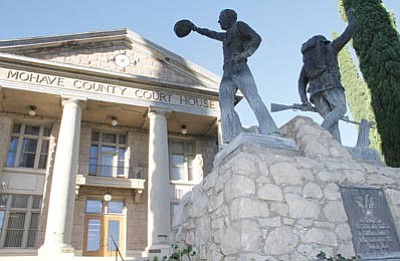 Originally Published: October 16, 2014 6 a.m.
KINGMAN - The planned construction of a new justice center in Kingman doesn't mean the historic, century-old Mohave County Courthouse has to be mothballed, shuttered and abandoned.
Plans can be changed, after all, and Bill Shilling, the city of Kingman's longtime grant administrator who has helped preserve many historic downtown buildings, wasn't about to sit by and watch nearly 20 years of hard work circle the drain.
There was more than one choice for the Mohave County Board of Supervisors when it came to where to build, but up near the armory located about half a mile up Beale Street closer to the county jail - seemed to be an attractive site.
Shilling saw that his life's work, his "passion," could potentially end in abject failure.
"When the county supervisors first decided to build a new justice center down by the armory, with all my preservation efforts, I was just crushed," he said.
Shilling sent a lengthy, heartfelt personal letter to Mohave County Supervisor Gary Watson, and another letter that said much the same thing to other supervisors. In it, Shilling explained why his commitment to downtown's success is so important, and how his efforts have even saved his life - a life that was tragically and permanently altered more than three decades ago.
Shilling wrote the letter on June 20, the same day a diving accident left him wheelchair-bound 31 years earlier.
"This community rallied to support me in my effort to recover," he wrote. "I faced a life of living in a wheelchair, no longer able to do many things I enjoyed. But as I recovered, I worked hard to gain my independence and contribute to society regardless of this wheelchair."
Shilling said his job with the city does more than provide a paycheck. It also gives him insight into what really matters to people and why historic preservation is so important.
"It's a human desire to belong," he said. "I belong here and want to belong to a community like Kingman. We have history here and that's important."
Over the years, Shilling played a key role in giving new life to a number of historic downtown buildings, including the Powerhouse, the Old Girl's High School Gymnasium - now home to the Boys and Girls Club - the Brunswick Hotel, the Kingman Depot, Central Commercial, Hubb's House and smaller projects.
He said these "small success stories" help keep him active and motivated - and they're why he gets out of bed every morning.
The inspiration for his efforts is simple to understand: His desire is to give back to those who helped him in the past, and to maintain the true legacy of Kingman for future generations.
The plan as explained by Shilling - and corroborated, at least in theory by Mohave County Administrator Mike Hendrix - would not only save the courthouse for future generations, but would enhance the entire area.
Preliminary plans could possibly include closing the intersection of Pine and Spring streets to make room for a courtyard or small plaza.
"Something that would generate foot traffic," said Shilling.
The new justice center would be built on Pine Street almost directly behind the historic courthouse.
Shilling said it would not be a "towering modern monstrosity," but rather constructed to complement the existing courthouse - which would be fully restored and still be used for office space and some courtroom activity.
Before any of that work could occur, the county would have to demolish two downtown eyesores. The shuttered county jail on Pine Street would have to be torn down to make way for the justice center and nearby Arnold Plaza - a building in such disrepair the county can't give it away - would be razed to expand parking space.
The county has between $20 million and $30 million to spend on the center, but Shilling believes that money could be saved by restoring the current courthouse and building a justice center literally across the street, rather than starting from scratch.
In any event, the plan he advocates certainly wouldn't cost more than what is already budgeted.
"There was some passionate discussion that the county not take courthouse activity from downtown," said Hendrix.
More importantly, the Colorado firm the county paid $35,000 to study potential building sites has designed a configuration that would not abandon use of the historic courthouse, said Hendrix.
That's a tack City Manager John Dougherty supports, and he believes the City Council, while no more than interested bystanders in the process, would also get behind the project.
"We support keeping it downtown," said Dougherty. "We're more than willing to work with the county to make that happen."
For Shilling, there is no other option. He is grateful the effort is real because this time, all the key entities and individuals, public and private, are involved.
"I've got 20 years worth of stories," he said, "The ideas aren't new, but the process is. This is the first time all of the players were willing to sit down at the table at the same time."
Miner reporter Hubble Ray Smith contributed to this report.