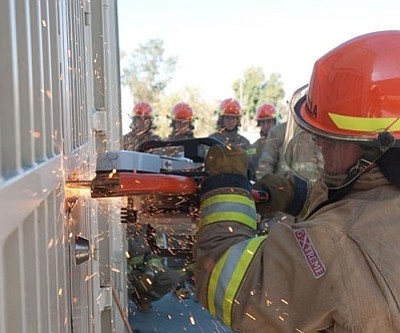 Originally Published: October 17, 2014 6 a.m.
KINGMAN - Mohave Community College is accepting applications for its firefighter academy that will begin in January in Bullhead City. The applications are due by 5 p.m. Nov. 21.
Applicants must be at least 18 years old and show proof of a diploma or having passed the General Education Development (GED) exam. Applicants must also be in good physical condition, able to pass a drug screening and background check, and meet the minimum score requirements on the college's entry testing.
Fire Science students study firefighting theories and learn how to fight fires while preparing for entry-level firefighter positions. Certification requirements depend on the hiring agency, but the majority of regional fire departments require both an EMT and Arizona Firefighter II certifications for full-time employment.
Students can also earn a driver/operator certificate, a fire officer certificate or an associate's degree in fire science.
Once admitted, students can complete the firefighter academy in 22 weeks. Students must successfully complete both the EMT and fire science programs to be ready for firefighting careers.
For more information about MCC's fire science program, call (928) 757-0807, email jlivermore@mohave.edu or go to www.mohave.edu/firescience.