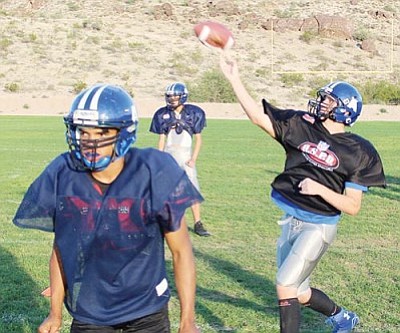 Originally Published: October 17, 2014 6 a.m.
KINGMAN - The Kingman Academy High football team enters today's game at Greyhills Academy in Tuba City ranked No. 15 in Division V, which is good enough for a spot in the state playoffs.
Greyhills (1-6, 0-3 Section VII) has been outscored 254-38 this season, with 32 coming in the Fightin' Knights' only win. Their passing attack from a spread offense has been marginally successful.
Stats like that could lead the Academy (4-3, 2-1 Section VII) to overlook the Knights, but KAHS coach Dan Stroup and his players are on top of the situation.
"The kids can see that Greyhills is a team where if we don't take care of business our other goals could suffer," the coach said. "They know they have to take care of it."
Academy will be without the services of senior fullback Chy Banda and junior quarterback/linebacker Will Herbine. Banda suffered a foot injury two weeks ago and Greyhills presents an opportunity to give him another week of rest. Herbine suffered a concussion in the Tigers' win over Camp Verde last Friday. He was symptom-free for the first time since then on Wednesday but will be kept out.
Herbine has completed 53 of 135 passes for 716 yards and nine touchdowns. He's also been intercepted nine times. He'll be replaced by freshman Kannon Butler at both quarterback and linebacker, where Herbine is fourth on the team with 45 total tackles.
"I'm excited for Kannon," Stroup said. "He's worked extremely hard on getting ready for this game. Now we'll see more of his ability. He knows he's starting, and he's excited."
Butler admittedly suffered a case of the jitters when he replaced Herbine for the second half last week. He sounded more businesslike on Wednesday.
"I just want to get the job done," he said. "I'm not going to try to do too much and just play the game."
Butler has been taking snaps with the first-team offense this week, and that has his confidence mounting.
"It's getting more fluid," the freshman said. "I'm gaining more chemistry with the offense like Will has. It's getting more smooth."
After today's game, there are only two games left in the regular season. The Tigers, with three losses, don't have much room for a let down.
"We have to keep our momentum up," Stroup said. "The kids know they have to come back from Tuba City with a victory."