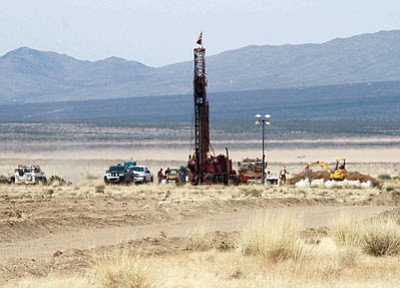 Originally Published: October 19, 2014 6 a.m.
KINGMAN - Supervisor Gary Watson wants to make sure Mohave County has a "seat at the table" when decisions are made regarding the proposed BLM land exchange with Las Vegas developer Jim Rhodes.
"Either you can be on the outside invited to lunch or you can be the lunch. That's not a situation we'll allow Mohave County to be in," Watson said Tuesday during an interview at the administration building.
The District 1 supervisor said he fully intends to stop the transfer of BLM land in the Hualapai Valley basin that provides Kingman's water supply and to establish an INA, or irrigation nonexpansion area, that would limit Rhodes' agricultural water usage.
Watson is pushing for an agreement with the BLM that recognizes Mohave County as a "cooperating agency" in any negotiating process for the 21,000-acre land exchange in the Red Lake area north of Kingman.
Mohave County's Board of Supervisors voted 5-0 without discussion at its Oct. 6 meeting to authorize development services director Nick Hont to develop and sign the agreement with the BLM.
Calling the county a "cooperating agency" is really a misnomer, Watson said. It suggests the county is going to cooperate with the government on the land exchange, regardless of terms.
"A cooperating agency is simply the ability to be at the table, so to speak, when decisions are made. More precisely, it ought to be called a coordinating agency," he said. "There are many things the feds do that you don't want to cooperate with. It just puts out the wrong feeling to begin with."
Watson wants all of the information held by petitioner Rhodes and the BLM to be shared with the county. The average time frame for completing a land exchange is about two years and the BLM state director makes the final decision.
County administrator and engineer Michael Hendrix said the Board of Supervisors wants a weighted position in the BLM negotiations, but there's "no such animal out there" to allow that occurrence.
If Rhodes is successful in swapping his land near the mountains for acreage in the Red Lake area, he would effectively encompass the Hualapai basin and could withdraw as much water as he wants for 40,000 acres of agricultural use, Hendrix said.
"It would degrade the amount of quality water available in the basin tremendously," he said. "The quality is not definitively known, but there's a big salt dome under there. It's brackish water further north."
The Hualapai basin recharges about 10,000 acre-feet a year, according to an August report prepared by geologist Luis Vega. Kingman Farms, Rhodes' agricultural company, uses 25,000 acre-feet, compared with Kingman municipal's 8,900 acre-feet. Along with natural discharge to Lake Mead and other groundwater withdrawals, the basin would be left with negative recharge of 32,000 acre-feet a year, Vega's report showed.
Assuming 7.6 million acre-feet of water in storage to a depth of 1,200 feet, the aquifer could support 115 years of 3 percent growth in Kingman, Vega projected. With Kingman's growth and Rhodes' farming operations, it falls to 75 years.
73 wells proposed
Rhodes has 15 existing wells, including 10 in the Red Lake area, and 73 proposed wells, including 37 in Red Lake and 23 in the Sacramento basin that serves Golden Valley, according to county planner Sylvia Shaffer. She found 57 corporation names related to Rhodes under the Nevada Corporation Commission and researched each corporation on the Arizona Department of Water Resources web site. There may be more wells, she said.
In September, Mohave County Board of Supervisors approved a motion to hire legal counsel specializing in water rights to represent the county in Hualapai Valley and other areas for not more than $10,000.
"We want to understand as much as we can and find the best avenue to make sure the aquifer is protected and that we have a considerable number of years of water in the future," Watson said. "This is a very serious subject for us to deal with."
Watson said the INA might be the direction in which the county would like to go. Only land currently being irrigated would be grandfathered into the INA, so there's a timing issue. There cannot be an expansion of the area being irrigated.
"We've got to be careful of unintended consequences," Hendrix added. "That's why we've got legal counsel."
Rhodes is currently using groundwater to grow alfalfa in the Red Lake area. Other possible uses include pistachio farming, a high-dollar crop that can produce $20,000 an acre income; building homes as the market recovers; and transferring water to Las Vegas.
The board also voted in September to establish an ordinance imposing an excise tax on the export of water from Mohave County.
Denise Bensusan wanted to speak about the land exchange at the Oct. 6 meeting, but was told by chairwoman Hildy Angius that the board was moving on to the next item.
"It absolutely blew my mind," Bensusan told the Daily Miner. "Can they actually vote 'yes' or 'no' whether or not Rhodes is able to exchange land? Let's please make sure this isn't going to interfere with our right to vote in the end to trade the land. You have public input and they're supposed to vote in response to public input."
Click for home delivery with comics, grocery deals, inserts, TV listings, coupons and more