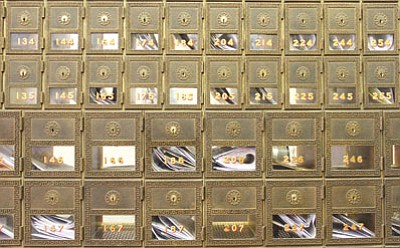 Originally Published: October 21, 2014 6 a.m.
KINGMAN - Linda Bennett lives on a fixed income in a poor neighborhood and doesn't want to change her post office box from downtown Kingman to the main post office on Johnson Avenue.
With her service dog at her side, she spoke to the Mohave County Board of Supervisors Monday in support of a resolution opposing the U.S. Postal Service's decision to close the downtown Kingman post office effective Dec. 31.
The board passed the resolution 5-0.
"I heard it's political, not really the economics of it," Bennett said during the public comment period. "The main post office does not have enough boxes to cover us."
USPS announced earlier this month it would close the contract postal unit at 229 E. Andy Devine Ave. and is "committed to identifying a more affordable downtown location in an existing business."
However, the new contract is for retail services only and would not replace more than 800 post office boxes at the current location.
Bill Shilling, grant administrator for the city of Kingman, thinks the post office should be part of downtown revitalization efforts. It's been a community mainstay since 1935.
"Aside from the business operations and service, the city is supportive of the post office from the standpoint of what it means to downtown. It's got character and charm," he said. "It's the direction we're moving to keep downtown viable."
Craig Graves took over the postal unit contract on an emergency basis after his mother, Helen, passed away in May. She had the contract for 38 years.
"I got thrown into this mix," Graves said, pausing to control his emotions. "I took the contract thinking it would move along as it had."
He said the downtown post office generates an average of $225,000 annual revenue for the U.S. Postal Service and is used by the County Assessor's Office, Mohave County Sheriff's Office, Kingman Chamber of Commerce and Arizona Department of Transportation, along with many downtown businesses.
Supervisor Gary Watson said he read where the U.S. Postal Service started Sunday delivery service for Amazon, yet it wants to close a profitable operation in Kingman.
"Probably has to do with unions," he said.
In other action Monday, the board:
• Approved an agreement between the county and city of Kingman in regards to the Hualapai Valley basin groundwater issues and the proposed land exchange between the BLM and Las Vegas developer Jim Rhodes. The agreement is contingent upon approval by city council.
• Voted to appeal the Arizona Department of Water Resources' denial of Mohave County's objections to applications by Freeport Minerals Corp. to sever and transfer water rights on land within Planet Ranch and Lincoln Ranch.
• Authorized procurement to solicit price quotes for quality used rodeo bucking and roping chutes to repair the rodeo arena at Mohave County Fairgrounds. Purchases to be paid from $50,000 in parks fund.
• Directed staff to assist Supervisor Jean Bishop is scheduling a town hall meeting at the county administration building auditorium to discuss water issues in the Hualapai Valley basin. Bishop said she's received many calls about what Jim Rhodes is doing with his Kingman Farms operation and she wants to "alleviate any fears out there."
The meeting is tentatively set for Nov. 10.