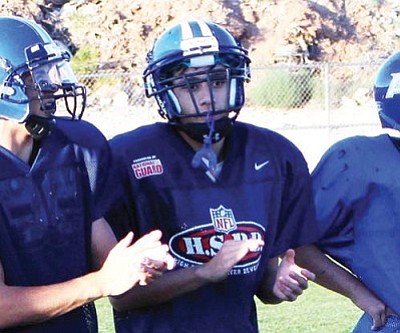 Originally Published: October 24, 2014 6:01 a.m.
KINGMAN - When No. 21 Williams visits No. 15 Kingman Academy at 7 p.m. Friday at Southside Park, it's going to be a playoff-like atmosphere as both teams try to improve their standing to finish in Division V's top 15 and earn a playoff spot.
Kingman Academy (5-3, 3-1 Section VII) comes into the contest with its third different starting quarterback in as many weeks. Junior Will Herbine continues to suffer from a concussion he received two weeks ago and is out for the second consecutive game. Last week's starter, freshman Kannon Butler, will concentrate on the linebacker position that was also vacated by Herbine's injury.
That means freshman Kekoa Makaiwi-Stroup gets the start leading the offense. He finished last week's game against Greyhills and has started seven games this season on the defensive side of the ball.
"Kekoa will go out there and execute," KAHS coach Dan Stroup said. "He knows he's the facilitator to get the other guys to perform. He'll play within the system."
The coach said the defense urgently needed to replace Herbine at linebacker. Butler can do the job, but against a solid opponent like Williams (4-4, 2-2 Section VII) he didn't want Butler (6-1, 182) to have to worry about two important roles.
"Kannon gets freed up to play defense in what should be a very physical game," Stroup said.
Makaiwi-Stroup is a confident young man who is ready to take on the task at hand.
"I've been the emergency quarterback for a while now," he said. "I've been trying to prove I can do this job. We play next-man-up, and that's how it works."
Williams throws the ball about 12 times per game and relies heavily on the two-pronged rushing attack of Damon Alvarado and Kristian Holmes. The pair has combined for 761 of the Vikings' 1,269 rushing yards.
"They are tough and we can't look past them," Stroup said. "They have two great backs who are excellent runners and are aggressive. They're mountain kids, and they're going to bring it."
The game will be played as part of Senior Appreciation Night, when the seniors from the football team and spirit line are celebrated by the Academy.
"We're hoping for energy and excitement," the coach said. "It we take care of our business, we won't need help from anyone. That's the position you want to be in."