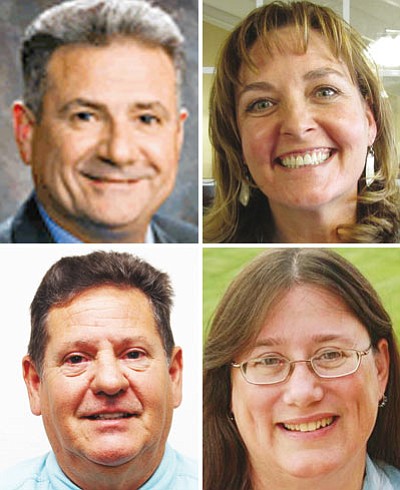 Originally Published: October 27, 2014 6 a.m.
KINGMAN - Concerns over Arizona's border with Mexico, the education initiative known as Common Core and the perception of federal government intrusion into state issues are the subjects Mohave County residents mention the most when talking to candidates for the statehouse.
The Miner proffered four questions to the four candidates for Legislative District 5 - Republican incumbent Rep. Sonny Borrelli, Lake Havasu City; Dr. Regina "Gina" Cobb, a Kingman dentist and a Republican; and Democrats Joe Longoria, a retired Kingman flooring subcontractor, and retired educator Beth Weisser of So-Hi. Two representative seats are up for grabs. Sen. Kelli Ward, R-Lake Havasu City, runs unopposed.
The Q&A follows:
Fighting for gas tax money
Miner: While a portion of previously swept Highway User Revenue Funds (HURF) money will return to cities such as Kingman next year, the Arizona League of Cities and Towns will lobby for full restoration in the next session, based on a resolution brought forth by the Kingman City Council and widely co-sponsored by many of the league's 91 members, including Lake Havasu City and Bullhead City.
(Here's why it matters: The city of Kingman has lost substantial HURF revenue for the past several years that has effectively stalled Kingman's road maintenance plan.)
Would you vote to approve full restoration?
Borrelli: "Yes. So far, over the next three years, a total of $120 million will be restored, $30 million in fiscal years 2015 and 2016 and $60 million in 2017.
"As the vice chairman of the Transportation Committee, I have and will continue to push for the full restoration," he said.
Cobb: "I will definitely vote to restore the complete HURF funds. I realize we are going to have a budget shortfall in the coming years and the easy fixes have already been utilized in the past few years. I will work hard to keep the cuts from further reduction or the elimination of funds for rural Arizona."
Longoria: "I support full restoration of HURF so work can continue in making all our roads safer."
Weisser: "Yes."
What's important?
Miner: What is the No. 1 concern you have heard from your constituents or potential constituents while on the campaign trail this year?
Cobb: "It is difficult too determine the No. 1 concern that I have heard from constituents. If I were to quantify the questions and concerns, I would have to say it is the federal intrusion in our professional and personal lives.
"Those issues include Common Core, medical insurance and recreational uses of federal lands and how the state deals with illegal immigrants. All of these concerns fall under federal intrusion."
Longoria: "The need for quality education to provide opportunities for our children's future. From teacher pay, classroom size, lack of classroom supplies and the implementation of the Arizona College and Career Readiness Standards, the overwhelming concern is to provide adequate funding and reform."
Weisser: "Common Core. As a recently retired Kingman public schoolteacher, I have seen many mandates that have had an adverse effect on our schools and our students. The original intent of Common Core was to have common standards across the nation, which is a good idea in our current global economy.
"The problems are occurring when school boards implement curriculum changes without training teachers sufficiently in how the programs work.
"Devastating budget cuts by the Arizona Legislature are responsible for the lack of funds in our rural schools. They are also responsible for extra mandates that cost schools more money."
Weisser also believes there are flaws within Common Core, specifically in the area of constant testing.
"All this current testing did not make the NASA generation great," she said. "They did not have this toxic level of testing ... we need to get back to the basics of education."
Borrelli: "The No. 1, overwhelming concern is securing the border. This is a public safety issue. There is an armed invasion of drug smugglers and human traffickers coming across our border with impunity, committing murders, rape, DUI, auto theft ... even in our district, so no, this not just about an immigration issue."
What to do about water
Miner: Las Vegas developer and Mohave County farmer Jim Rhodes has announced plans to plant produce on tens of thousands of acres in Mohave County.
This has led to a revelation that the state of Arizona seems to have no real authority over water rights amid fears Rhodes' operation will deplete the water supply, particularly in the Golden Valley area.
What can be done to protect water basins?
Longoria: "Making sure adequate water supplies for all citizens in Mohave County is secured should be a concern to all of us. If I'm honored to be your representative I'll meet with the newly formed coalition between the city of Kingman and the Mohave County Board of Supervisors to ensure that all parties have a seat at the table in discussions with Jim Rhodes and the BLM."
Weisser: "Historically, Arizona has been an agricultural state so any legislation about agricultural water use has to be carefully crafted with that consideration in mind. We do want to encourage efficient water use practices.
"I agree it is important to be concerned about our water resources. It is also important to have food."
Weisser recounted her days as a real estate agent in Kingman and listening to people who were upset over Rhodes' plan to build a housing development. After that, there were concerns over plans to build a solar plant at Red Lake.
"Now that local people stopped those developments, Rhodes, being a businessman, has found another way to use his property to create a profit.
"Ironically, this has put it in the legal position of using way more water without anyone getting in his way."
Borrelli: "There's no easy fix when it comes to legal claims to water rights.
"There is also the factor of private property rights and the balance of possible negative effects on the local community and county jurisdictions. Al rights and aspects need to be carefully examined and evaluated."
Cobb: "The water issue with Jim Rhodes has spurred a lot of debate about water rights and control. Unfortunately, some of the past decisions or lack of clarity have come back to haunt us now.
"What spurs the fear in this situation are unanswered questions. Let's look at the laws we have in place and determine if they are sufficient to deal with the worst-case scenario. If they are not, at the county, state or federal levels, let's clean it up so that we are in the driver's seat and we are not playing defense.
"I feel the relationships I have in all of the branches of government will assist in a resolution to this problem."
Legal pot in Arizona
Miner: Republican Rep. Ethan Orr of Tucson advocates for lawmakers to legalize recreational marijuana use ahead of a voter-approved measure in 2016. Orr reasons that a voter-approved law would be more difficult to amend, and that taking a proactive approach would allow the Legislature to drive the conversation.
Do you support Orr's proposal?
Weisser: Weisser agrees with Orr from the perspective that amendments will need to be made to legalization legislation, which would be far more difficult if votes approve legalization on the ballot.
While not a user, Weisser is a proponent of legalization.
"I have been very open about supporting the end of cannabis prohibition," she said. She said prohibition creates street crime, and that marijuana supplements the body's need for natural plant-based compounds that reduce stress and prevent illness.
Borrelli: "First off, I know Rep. Orr and I have already spoken to him about this issue.
"No. 1: He does not advocate legalizing recreational marijuana use. What he was implying was, 'Let's have a realistic conversation on the issue.'
"Let's separate the hype and rhetoric and deal with the facts at the Legislature, pro and con. To that, I agree. Let's have a realistic conversation."
Cobb: "No. I have lived in Colorado and have several friends and relatives in that state. The legalization of marijuana has spurred the economy, but in a bad way. The residents feel that tourism has increased due to the legalization."
Cobb also takes issue with the potency of modern marijuana and the varying techniques used to ingest the drug.
"If we legalize, we start down a road of no return."
Longoria: "I do not support Rep. Orr's proposal at this time."
Click for home delivery with comics, grocery deals, inserts, TV listings, coupons and more