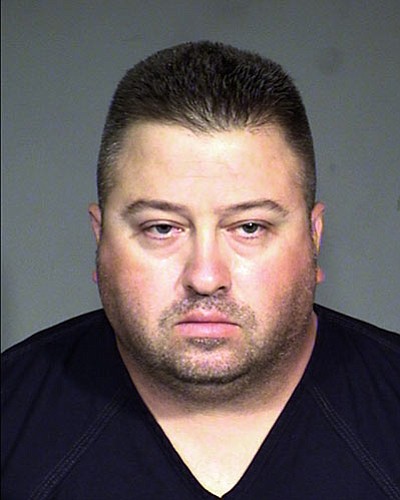 Originally Published: October 27, 2014 12:16 p.m.
KINGMAN - A Bullhead City police officer who was arrested last week in Nevada on a charge of attempted sexual assault was suspended from duty at the time and under investigation for similar charges by the Kingman Police Department.
The KPD was asked to investigate an allegation against Bullhead City Police Sgt. Jesse Samuel Hoag, 37, as an independent law enforcement agency. The Oct. 2 incident did not occur in Kingman. KPD detectives began their investigation Oct. 3 and recently submitted the case to the Mohave County Attorney's Office for review.
The county attorney's office declared a conflict of interest, according to Chief Deputy County Attorney Jace Zack, who sent it to the Coconino County Attorney's Office in Flagstaff for possible prosecution.
Zack likely declared the conflict due to the number of criminal cases the county has prosecuted that involve Hoag, an 11-year veteran. Calls to Flagstaff were not immediately returned.
A Bullhead City Police spokeswoman referred questions regarding the Oct. 2 incident to Kingman police.
Hoag was arrested across the river Wednesday in Laughlin after a woman accused him of attacking her in a vehicle outside of a bar at about 7 a.m. He surrendered to police in Nevada after the woman made the accusation and he bailed out of jail the next day.
Bullhead City Police asked the Arizona Department of Public Safety to conduct an internal investigation into the most recent case.