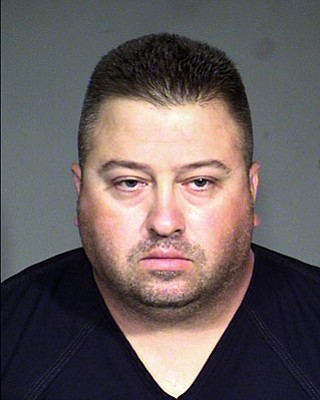 Originally Published: October 28, 2014 10:15 a.m.
KINGMAN - Kingman police detectives were tasked with investigating Bullhead City Police Sgt. Jesse Hoag in the alleged sexual assault of a Mohave Community College student Oct. 2 - 20 days before Hoag was arrested in Nevada for allegedly attempting to rape a second woman.
Hoag, 37 and an 11-year veteran of the Bullhead City Police Department, allegedly forced the woman to have sexual intercourse after the pair drank beers in a Laughlin, Nev., bar, according to a Kingman Police Department probable cause affidavit that was used to obtain a warrant to search Hoag's pickup.
The woman, a student of Hoag's at the Bullhead City MCC campus, said she asked Hoag to help her prepare for testing to become a police officer.
She said Hoag agreed and the pair went drinking at a Laughlin bar.
The woman said she and Hoag left the Hideout Bar after Hoag consumed a six pack and she had two beers. They drove back to Arizona when Hoag allegedly made aggressive sexual advances. The woman said she initially agreed, but later changed her mind and told him to stop.
Hoag, according to the affidavit, became violent. Her eyeglasses were reportedly broken and later recovered from Hoag's truck, along with loose change that fell from her pocket during the struggle.
She told police that Hoag forced her to engage in sexual intercourse and threatened to hurt her.
He reportedly apologized afterwards and told the woman he would turn himself in the next day, according to the affidavit.
Hoag's roommate said Hoag came home after 6 a.m. He was allegedly holding his underwear in his hand.
The woman was a student in a class Hoag taught at the Bullhead City MCC campus.
Bullhead City Police spokeswoman Emily Fromelt said Hoag was placed on paid administrative leave after the Oct. 2 incident came to light the following day and the Kingman Police Department was asked to investigate the allegation.
Kingman Police submitted the case to the Mohave County Attorney's Office, which in turn asked the Coconino County Attorney's Office to handle any possible prosecution due to the number of Mohave County criminal cases Hoag has been involved in since becoming a police officer in 2003.
Tami Suchowiejko, the executive assistant for Coconino County Attorney David Rozema and Chief Deputy Michael Lessler, confirmed the case is under review.
"This office has received the police reports, witness statements and other information and evidence regarding this case from the Mohave County Attorney's Office," she wrote in an email to the Miner. "This office will be making a decision in the near future about whether to bring charges, and if so, what charges will be brought."
The facts alleged in both cases are remarkably similar.
On Oct. 22, while suspended, Hoag allegedly attempted to rape a Nevada woman early in the morning, again after drinking in a Laughlin bar.
The woman told police in Nevada that Hoag tried to rape her in his truck, but she fled after a brief struggle, returned to the bar and called police.
Hoag bailed out of jail Oct. 23 and has been charged with attempted sexual assault.