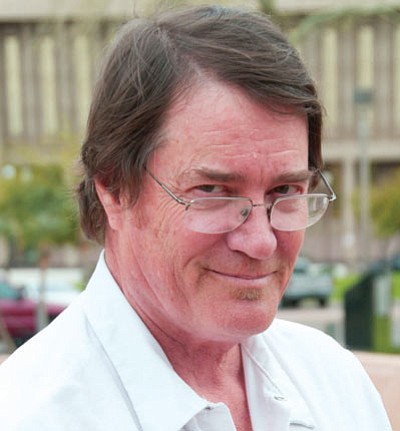 Originally Published: October 28, 2014 9:25 a.m.
Editor's note: The Daily Miner has an interview scheduled with U.S. Rep. Paul Gosar, R-Ariz. and the incumbent in this race. Look for that article later this week.
KINGMAN - Interviewing Mikel Weisser is an eye-popping experience. The Golden Valley Democrat has challenged incumbent Republican Rep. Paul Gosar for Arizona's Congressional District 4 in his second run for the seat.
Weisser knows the odds of winning are stacked like cordwood against him, but he says he is not, as the cliché goes, in it to win it.
Instead, he intends to use the platform as a stepping stone in his efforts to change the culture of Mohave County - a culture he believes is xenophobic, at best, and downright hateful at worst.
"I know I live in the reddest part of a red state," he said. "I don't need to win. I need to run and accomplish a goal and gather followers because the racist, redneck culture of Mohave County has to go."
Weisser is unabashedly liberal, and he is unapologetically a Democrat. Here's his take on ...
Marijuana
Known far and wide for advocating the legalization of marijuana for recreational purposes, Weisser, 55, said he has smoked marijuana since the age of 18.
But it wasn't until his wife, Beth Weisser, made legal marijuana an issue when she sought public office in 2010 that he decided to support legal cannabis use for recreational purposes.
"Beth doesn't smoke," said Weisser, "but she felt this issue was so important that she advocated for it, so when I ran (for the Legislature) in 2012, I knew I had to be just as courageous as my wife was."
Weisser, a medical marijuana cardholder, is a member of Safer Arizona, a pro-marijuana group that advocates for legalization, but the lifelong activist has spent most of his life advocating for the rural poor, a demographic he and Beth recently joined after both lost their jobs and are on public assistance.
"I've always done a lot of work for the poor," he said. "In 25 years of activism, I've done more work for poverty in rural areas than anything else."
Born in the Texas border town of Raymondville, about 50 miles north of Brownsville, Weisser said he has been poor most of his life and rural for all of his life.
Weisser was, until recently, a middle school social studies and language arts teacher in Bullhead City and Kingman since moving to Mohave County in 2000. He said he lost his teaching job at Kingman Middle School because of what he did outside of school.
"Kingman is a lot more conservative than Bullhead City," he said. "My political activism was causing problems. The conservatives didn't want a longhair teacher around."
That activism was all-encompassing. Weisser claims membership in Move On.org, Code Pink, Amnesty International, the Occupy movement and the End the War Coalition's Phoenix chapter. These are just some of the causes Weisser champions.
Education
If there is a singular thread that ties Weisser to the Republicans, it is a dislike for Common Core, the education initiative that establishes standards for students to meet in English and math.
Republican opposition is rooted to the GOP's opposition to what they consider federal intrusion in state affairs.
Weisser has a problem with how the standards are to be met.
"I don't support Common Core," he said. "To my mind, it's just another version of crony capitalism that puts restrictions on education."
Weisser said the curriculum limits what can and cannot be taught.
"Our continuing evolution in education is not advancing education and what education can and should be," he said. He is highly critical of Common Core's frequent testing protocols, calling them "toxic."
"This test-focused mentality is causing students to lose interest," he said. "It's impairing their ability to engage in critical thinking."
The level of testing, while toxic perhaps, takes a back seat to chronic budget shortfalls that lead to too many students in one classroom.
He said as many as 36 students are part of classes in Kingman.
"We've doomed an entire generation because of budget cuts, but if your only solution to a problem is to cut spending, you will never solve the problem," he said.
Immigration
Growing up in Raymondville, Weisser witnessed firsthand the abject poverty people lived in right across the Rio Grande River that separates the U.S. from Mexico.
He doesn't like the term "border security," saying it frames immigrants who cross the border illegally as a threat.
"I'm a big supporter of immigration," he said. "As far as I'm concerned, when we went through those so-called immigration improvements, the rules made it impossible for refugees and others to immigrate legally, so unscrupulous people bring them here illegally."
That doesn't mean he wants to abandon the border.
"I know there's problems and there would be problems without some kind of vigilance," he said. "I'd like to have the ability to do background checks right at the border."
He mentioned the Afghanis who served as translators for coalition troops in that country. He said these men are routinely "killed with impunity" because they can't immigrate to the U.S. due to paperwork glitches, despite the invaluable service they provide.
The pitch
"Vote for Mikel Weisser because Mikel Weisser is of the 21st century," he said.
"My opponent and his values call for tax cuts for the rich and a theocracy for the religious right and those two things cause problems.
"If you vote for me, who knows? I might create a whole new set of problems, but the Republicans have run the state for 20 years. That's why we're in this mess."
More like this story