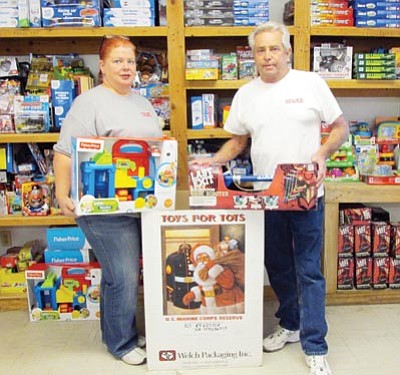 Originally Published: October 30, 2014 5:59 a.m.
KINGMAN - The distinctive white Toys for Tots boxes adorned with cheerful red trains will start popping up next week in local industries and retail stores.
That's the signal for people to donate to the annual campaign, which is run by Kingman Marine Corps League Detachment 887. Don Olin, coordinator for the Northern Mohave County Toys for Tots drive, said he is hoping contributors will be even more generous this year than last, when about 3,500 local children received new toys.
"We're just getting started and it's looking pretty good so far," said Olin, who has been coordinator for about five years. "I know toys are expensive, but Kingman always seems to come through for us. And we're hoping what we do will make a difference to a lot of needy kids."
Families with children up to 15 years old are eligible to sign up for the program, which runs through Dec. 24. There are no income guidelines. The organization only accepts new, unwrapped toys, games, puzzles and stocking stuffers. They can be dropped off in any of the Toys for Tots boxes located around the area.
While younger children enjoy toys, older children prefer items such as hair dryers, basketballs, footballs, wallets, games, cologne, headphones and backpacks.
Kingman resident Casey Farrell, who puts in about 50 hours a week as a volunteer with area children's and veterans' organizations, is being groomed this year by Olin to take over as coordinator next year. This is Farrell's first year working with Toys for Tots.
"I think this is a fabulous program and there would be a lot of very sad children at Christmas if not for Toys for Tots," said Farrell. "And children are what Christmas is all about."