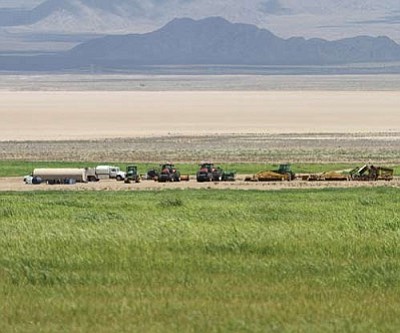 Originally Published: September 2, 2014 6 a.m.
KINGMAN - The proposed land swap between Kingman Farms owner Jim Rhodes and the Bureau of Land Management in the Red Lake area will not take place anytime soon - and not before the public is given ample opportunity to weigh in on Rhodes' plan to consolidate and increase his controversial farming operation in the area.
"Everything right now is in the preliminary stage," said Ruben Sanchez, director of the BLM's Kingman Field Office.
Sanchez said a number of steps are required in such land exchanges, with the overarching objective to ensure the swap is for the good of the public.
The issue dates back to February, when Rhodes in a letter to the BLM proposed trading 21,000 acres of private land he owns in Mohave County for 21,000 acres of BLM land.
Sanchez said the request for an even swap was flawed.
"That's not how it works," he said. "It's value for value." In other words, the BLM's land might be more valuable than what Rhodes has offered in trade - or vice versa.
"Just because he wants 21,000 acres doesn't meant that's what he'll get," said Sanchez, who acknowledged the land exchange could benefit the BLM.
Property ownership is a checkerboard of square-mile sections - 640 acres - between Rhodes, the BLM and the BNSF Railroad. Also, five sections Rhodes has offered are located on National Park Service Land.
"There are some positives for us, but (the exchange) has to be in the public interest," said Sanchez. "I take no personal stand."
Much of the public, especially those that live in and near Golden Valley, worry that Rhodes' plans for a farming operation will rapidly deplete their water source.
Dust blowing after fields are disked is another concern residents have expressed. The Hualapai Tribe has concerns over Native American artifacts in the area.
Water usage, however, remains the main issue of concern for everyone in the region.
In July, Mohave County Supervisor Gary Watson accused Rhodes of not using water conservation techniques, as he said he would, at Red Lake, about 20 miles north of Kingman. He said he would install water-saving drip tape systems, but more than a dozen traditional circle pivot systems were in place.
Watson at the time said the best way to fight against Rhodes' as-of-yet unknown plans for Kingman Farms is through the BLM-Rhodes land exchange process.
The city of Kingman is also involved, but has not taken a formal stand on the proposed exchange.
A phone call to Rhodes' attorney, Chris Stephens, was not immediately returned.
Sanchez said a feasibility study must be conducted and several scoping meetings - designed to obtain public comments - must also be held.
The federal Environmental Protection Agency must conduct an environmental assessment, which will play a huge role in the decision.
The process can take up to two years before one is made, and Sanchez advises those who have concerns to prepare those comments with thoughtful consideration.
"Make them substantive, not personal," he said. "Concerns with water, dust, whatever it is, make it about that. Telling us you don't like Jim Rhodes won't cut it."
Sanchez said input from the community and the complexity of the issue involved in the land exchange will frame the discussion.
"The community will play a huge role," he said. "We can't move forward without their involvement."
Sanchez said any public meetings regarding the exchange will be well advertised.
He invited anyone with substantive concerns to write them down and submit them ahead of time, in person at the BLM Kingman Field Office, 2755 Mission Blvd., or by mail in care of Ruben Sanchez, 2755 Mission Blvd., Kingman, AZ 86401.
Formal calls for public comment will be made as the scoping sessions are scheduled.