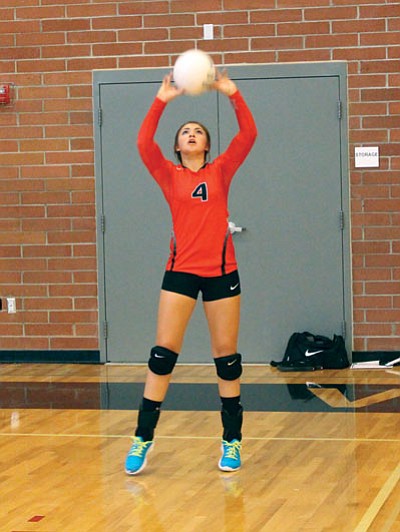 Originally Published: September 3, 2014 6 a.m.
KINGMAN - It's the inaugural varsity volleyball season for the Lee Williams High Lady Volunteers, and coach Traci Rosenbach made her team jump into the deep end when Lee Williams went up against Joy Christian in a scrimmage Thursday in Glendale.
The Eagles reached the quarterfinals in last year's Division V state tournament.
"We learned a lot from this scrimmage," Rosenbach said. "It was definitely a reality check to see what a varsity team looks like. I always feel you learn more from your losses than your wins."
The Lady Vols open the season against Telesis at 6 p.m. today in Lake Havasu City. Because Lee Williams entered the varsity world in the midst of the Arizona Interscholastic Association's current two-year scheduling block, the Lady Vols won't be in a section this season. Their power points ranking is the only avenue for Lee Williams to punch a ticket into the D-III state tournament.
The Lady Vols won't have a senior class until next school year, so the squad is comprised of three juniors, four sophomores and four freshmen. The juniors are: Marli Lauck, Caiti McNiven and Alexis Reyes. The sophomores: Cassie Finkbeiner, Kristen Finch, Holly McFadyen and Sidney Clark. Freshmen: Sadie Snay, Madi Arave, Tori Hummel and Khori Cobanovich.
The freshmen were the group that caught Rosenbach's attention against Joy Christian.
"I was very impressed with the freshmen," the coach said. "They really rose to the occasion."
Arave showed Rosenbach she may be hard to sub for out of games and off the floor.
"Madi is like a sponge right now," the coach said. "She's absorbing everything she's being taught."
Rosenbach expected her team to play quality defense, and her middle players were up to the task.
"Marli and Holly had a lot of good blocks for us," she said. "But, we made a lot of errors and have a long way to go. It isn't about winning this year. It's about building a program and preparing them for the years to come."
As the season gets ready to unfold, the Lady Vols are holding their heads high about who they are.
"I'm very proud of being on the first team ever," Finkbeiner said. "All the girls are, and we want to make a statement for the school."
Lee Williams returns to Havasu Saturday for the Mary Jo Goldey Tournament and the team is excited about having Rosenbach as coach.
"It's been great," Lauck said. "It's a great opportunity to play with our new coach who has been pushing us. She's an awesome coach."