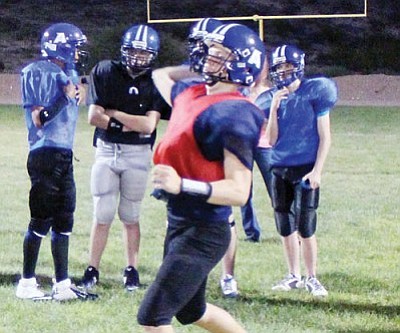 Originally Published: September 5, 2014 6:01 a.m.
KINGMAN - There's going to be one less team in Division V with an unblemished record after the Kingman Academy football team hosts ASU Prep at 7 p.m. today at Southside Park.
KAHS (1-0) took care of Laughlin last week, 33-6, and ASU Prep (1-0) blanked Tanque Verde, 29-0.
The Sun Devils enter today's game with a group of skill players who have speed and quickness, according to KAHS coach Dan Stroup.
It could be a long night if ASU is effective operating out of the spread.
"ASU presents a whole new problem," the coach said. "We have to do a good job and make tackles in the secondary. If they get something and we fall or something, they can be a dangerous team. They like to put the ball up."
Good news for the Tigers is that senior wide receiver Chris Pfeiffer will make his debut this week.
The 6-foot-6 Pfeiffer missed the Laughlin game due to a shoulder injury.
"We're excited to have Pfeiffer back, and that gives us another weapon," Stroup said. "It'll be good to get him in a game situation."
Equally exciting is that junior quarterback Will Herbine isn't resting on his 10-for-14 passes completed for 105 yards and three touchdowns performance against the Cougars.
"Will has had the best practice week he's had since I've been with him," the coach said. "He could go off in this game easily."
Senior Breyden Potter was the recipient of two of those touchdowns from Herbine. Not bad considering this is Potter's first year ever playing football.
"I never thought about it before," he said.
Now that he is playing, he's having the time of his life.
"It's definitely fun," Potter said. "I'd be a lot bigger, stronger and better if I started younger. I have to work harder just to catch up."
Potter doesn't play like a novice, but from the participation angle he's only got this year to measure how things are going.
The tight end likes where his team stands heading into tonight's contest.
"We've got a game under our belt," he said. "We're not thinking about what we have to do - we're just doing it. Everything is going more smoothly, and we're practicing harder."