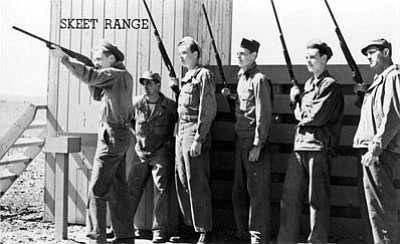 Originally Published: September 5, 2014 6 a.m.
KINGMAN - In July, 55 residential lots on what used to be a World War II Army gun training range were cleared of hazardous materials left over from that era, and the U.S. Army Corps of Engineers is coming back to discuss further studies - and the possibility of more remediation.
The lots had the top two feet of soil and landscaping removed and replaced in a cleanup that began in 2013.
The Corps of Engineers will return on Tuesday night for a meeting at Mohave Community College.
The area being looked at once contained 15 skeet ranges that covered about 75 acres just outside of Kingman. Residential lots between East Devlin Avenue, East Tommie Drive and East Lass Avenue now occupy the area. Tests in 2010 determined that the area was contaminated.
Soldiers trained by shooting clay pigeons with shotguns. The clay pigeons from that era were made with coal tar pitch, which is known to contain polycyclic aromatic hydrocarbons (PAHs).
Some of these PAHs are toxic, and the debris from these targets as well as lead from the projectiles used in training remained in the area long after the range shut down.
"Soil samples analyzed during the 2010 site inspection contained PAH concentrations 1,000 times higher than permitted under 2007 Arizona residential risk-based screening levels and 10,000 times higher than the updated 2012 U.S. Environmental Protection Agency residential risk-based screening levels," explained Fran Firouzi, the district's project manager, in an Army.mil article from 2013.
The U.S. Army Corps began a cleanup of the area in 2013 with the 59 lots that occupied the site. Families affected were housed in local hotels and given stipends while crews worked to clean their lots.
Of the 59 lots that were deemed contaminated, 55 were cleaned as of July 31. Four families refused treatment.
The meeting on Tuesday is a continuation of that cleanup and will cover plans to test additional lots in the area.
Lead from the projectiles used to shoot the clay pigeons could travel nearly 900 feet, said Firouzi. That's beyond where most of the clay pigeon debris landed, which was the focus of the initial cleanup.
Firouzi estimated that more than 280 lots are in the area that they plan to test. She also stated that letters are going out to homeowners and that the Army Corps will require a Right to Entry before taking samples.
Firouzi and representatives from the U.S. Army Corps of Engineers will be present to discuss more details about future testing and cleanups.
History in Kingman
The skeet ranges at what's known as "MRS03" initially opened with the gunnery school on Jan. 18, 1943. The school was the sixth of its kind in the nation and was built to be the largest at the time, according to a Mohave County Miner article from Jan. 14, 1943. A normal class could hold 320 students.
Men at the gunnery school would have to go through several weeks of training over three phases: ground school, range firing and firing from combat planes.
The first few weeks of range training were spent at MRS03's skeet ranges, where gunners would learn sharp-shooting with BB guns and shotguns under famous skeet shots such as Capt. Lyle B. Pressy.
"It's the finest preliminary training of aerial gunners in the shooting of moving objects," said Pressy in a Miner article from 1943. "It simulates air-to-air firing, and as such it provides invaluable training towards the more advanced and complicated firing from a moving base."
They would then move up to one of the five ground-to-ground moving target Fairmont Ranges, where they would operate turret guns from the back of moving trucks.
The last few weeks of training took place in AT-6s, AT-18s and, later on, B-17s. Gunners would practice shooting tow targets in the air.
When the school closed on Feb. 25, 1946, nearly 36,000 gunners had gone through the program in Kingman. The gunnery range became Storage Depot 41 the next day, and over the next two years nearly 7,000 B24s, P38s, B26s, A26s, and more were stored in Kingman before getting melted down into aluminum ingots.
The job was finished in 1948, and the base was released to Mohave County.