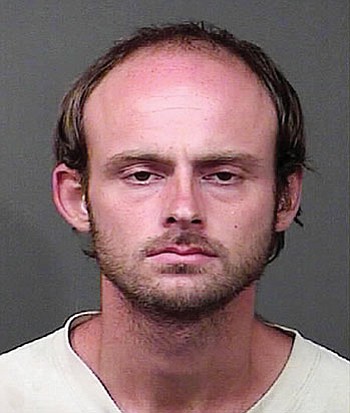 Originally Published: September 8, 2014 5:59 a.m.
DOLAN SPRINGS - A burglary investigation led to the arrest of three Dolan Springs men early Aug. 31, thanks in part to Mohave County Sheriff's Office K9 Ecko.
Deputies were investigating a burglary in Dolan Springs when they pulled over a camouflaged Jeep Cherokee in the area of 15th Street and Laurel Road at about 3:15 a.m. Christopher Thomas Gouge, 25, exited the vehicle, but the driver fled. Deputies located the Jeep moments later at a nearby property, but they could not find the driver.
Ecko and his handler were called to the scene and quickly located the 38-year-old driver hiding under bushes. A record check revealed his driver's license was suspended and he reportedly admitted that was the reason he fled.
A record check also revealed the property's owner, Jeremiah Augustus Hamer, 37, had a misdemeanor warrant for his arrest.
A search of Hamer allegedly revealed he possessed methamphetamine. Gouge reportedly admitted to possessing a meth pipe.
The three men were taken into custody without incident, but more charges are possible as both the Jeep and items that were reportedly found inside it are part of the burglary investigation.
The driver was not charged with fleeing from deputies, but he was arrested for driving on a suspended license, a misdemeanor. Gouge was charged with possession of drug paraphernalia and Hamer was arrested on the warrant and charged with felony possession of dangerous drugs and possession of drug paraphernalia.