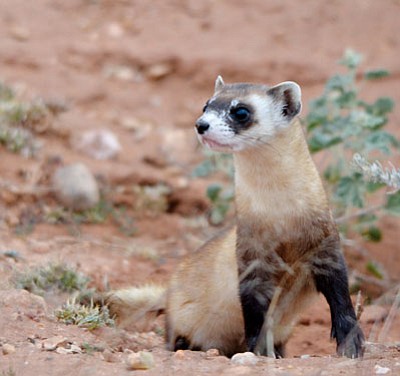 Originally Published: September 8, 2014 6 a.m.
KINGMAN - With the help of volunteers, an animal once considered the most endangered mammal on the planet has continued its climb toward recovery in Arizona's Aubrey Valley.
As part of the black-footed ferret recovery effort, the Arizona Game and Fish Department is seeking volunteers to assist with two fall spotlighting events; the method used to document the population of this elusive, nocturnal, and endangered carnivore.
The spotlighting will be from Sept. 11-14 and Oct. 9-12. Volunteers can help one evening or multiple nights.
Those wishing to volunteer, or needing more information, should e-mail azferret@azgfd.gov by Wednesday for the earlier effort and by Oct. 7 for the later opportunity. Write "Fall Spotlighting" with "September," "October," or "Both" in the subject line. Individuals should indicate which night(s) they are available to help; include a first and last name, a contact number, and if anyone else will be attending with them.
Additional information will be sent following contact, including meeting location and times.
The ferrets were twice thought to be extinct, and 18 were left when captive breeding began in 1985.