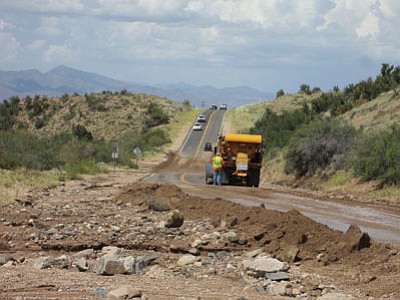 Originally Published: September 9, 2014 6 a.m.
KINGMAN - The first measurable rainfall of the month hit Mohave County Sunday and Monday with some areas getting more than an inch of rain, nudging the year-to-date total closer to normal and extending one of the wetter monsoon seasons in recent years.
Rain totals recorded by Mohave County Flood Control through 5 p.m. Monday ranged from 0.71 inch in Kingman to 3.39 inches in Pinion Pines. Yellow Pine Lake got 1.97 inches.
Rich Ruggles, who records rainfall at Fripps Ranch, reported 0.58 inch through noon Monday, including 0.46 inch on Sunday. His total monsoon rainfall now stands at 6.31 inches.
A spotter in Oatman reported half an inch of rain in 20 minutes and six inches of water flowing down Main Street.
More rain is expected as tropical storm Norbert makes its way from the coast of Mexico into the desert Southwest. It could bring as much as 5 inches of rain to Arizona.
The storm had weakened over much of Mohave County by mid-morning Monday, though a flash flood warning remained in effect through the evening in the Mohave Valley and Topock areas. Runoff from heavy rain that fell earlier could still result in rapid water flow in washes.
Several roads around Kingman, Golden Valley and Dolan Springs were washed out, Mohave County Public Works Director Steve Latoski said. Road maintenance crews were busy throughout Sunday afternoon and into Monday morning clearing debris and shoulder erosions, he said.
Stockton Hill Road was hit hard around the Vock Canyon area, while Chino and Estrella roads were closed for a while in Golden Valley. Crews were able to open Pierce Ferry Road and White Hills Road.
Flash flooding carved an 8-foot rut in Stockton Hill Road near mile marker 13 Sunday afternoon. A car was stranded between flooded sections of the road and the driver had to be rescued.
Outside of road closures, storm damage was minimal, Latoski said.
Patti Cummins said she deals with flooding at her home on Gates Avenue every time it rains. Some residents have built berms in front of their homes as recommended by city engineers, which only directs more water onto Cummins' property.
"Now it's coming into our yard and flooded our garage and home and it's getting worse," Cummins told the Daily Miner. "There's got to be something the city can do to fix the drainage."
She said residents have been promised curbs and gutters in the past.
Stetson Winery in Valle Vista got a good soaking, owner Jo Stetson said.
"Things are starting to get pretty well saturated here," she said. "It's good for the grapes and the weeds. The rain we got was much needed and not a downpour like a gully washer."
Phoenix was swamped with 3.29 inches of rain recorded at Phoenix Sky Harbor International Airport, the wettest day on record. It's more than the average rainfall for July, August and September. Some 30 cars were submerged in water on Interstate 10 and numerous schools were closed. Two rain-related deaths were reported in the state.
Today's forecast is mostly cloudy with a 60 percent chance of thunderstorms bringing as much as 0.4 inch of rainfall. Skies should clear toward the end of the week.