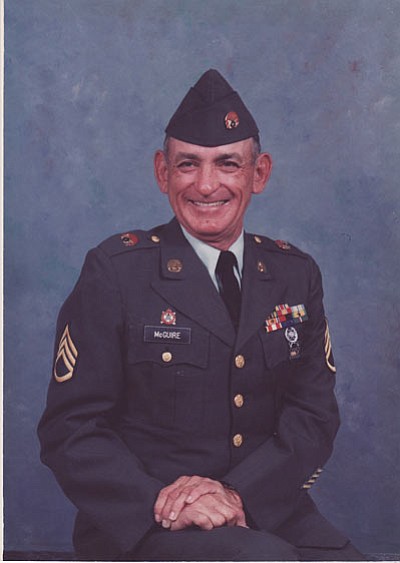 Originally Published: September 9, 2014 6 a.m.
Rudolph "Rudy" McGuire of Kingman died Sept. 4, 2014, at the age of 84. He was born in El Paso, Texas, on Nov. 6, 1929, to Charles Cecil and Josephina McGuire.
Rudy was a life member of the American Legion Post 14 and a 20-year member of the 40/8 Voiture Locale 439 in Kingman.
He is survived by his wife of 32 years, Mary L. McGuire; his sons, Randall (Pamela) Martin, Rudy Allen (Katrina) McGuire and Ben (Breanna) McGuire; daughters, Sally (Mark) Deba and Missy Fass; step-children, Raymond (Marianne) Mallet, Pete Mallet, Walter Mallet and Cheryl Mallet; 15 grandchildren; and three great-grandchildren. Rudy is also survived by his brother Ruel (Toni) McGuire of Tulsa, Okla., and sister Aberta (Bob) Bagdon of El Paso, Texas.
Sometime in the early 1960s, Rudy belonged to the Glendale Desert Riders and loved to ride Trigger, his horse.
Rudy joined the Army in 1953; 591st Military Police Company, First Battalion in El Paso, Texas. In 1971, he joined the Arizona National Guard in Kingman. He was an Army National Guard Recruiter for Detachment 1, 855th Military Police Company in 1977 and retired from Detachment 1, 1058th Ordnance Company, in 1991.
From 1965 through 1991, Rudy worked at Citizen's Utilities Telephone Co. He made friends wherever he went. Rudy loved country music, dancing, fishing and hunting. He will be missed by all. He requested that there be no memorial service; we will have a "remembrance" gathering in his honor at a later date - please watch the paper.