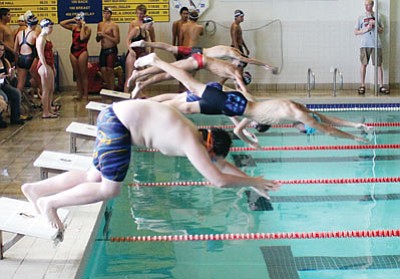 Originally Published: September 11, 2014 6 a.m.
KINGMAN - Bradshaw Mountain swept both the boys and girls swim meets hosted by Kingman High at the Del E. Webb Fitness Center Tuesday.
The Bears won the boys meet with 203 points. Kingman was second (93), Kingman Academy (36) third and Bullhead City MALC (30) came in fourth.
Bradshaw took first in 10 of the 11 events. Kingman prevented the Bears from making a clean sweep when Ricky Ogborn, Richard Jenks, Tyler Julle and Chance Robertson teamed for the win in the 200 medley in 2 minutes, 16.84 seconds.
The Bradshaw girls won that meet with 197 and Kingman Academy (90) took second. Kingman (80) was third and MALC (19) finished fourth.
Victoria Depner got the Academy its first-ever first-place finish in an event in the 200 individual medley (2:45.10). Her sister, Sofia, made it No. 2 for KAHS with a win in the 100 breaststroke.
Kingman's Makayla Newberry got the only win for the Lady Bulldogs in the 100 backstroke with a time of 1:16.52.
All four teams return to action at the CrimSwim Invitational in the Valley Aquatic Center Sept. 20 in Yuma.
Volleyball
Lee Williams sweeps Laughlin
On the road for its second consecutive match to not only open the season but school history as well, the Lady Vols swept past Laughlin Tuesday in Nevada 25-19, 25-11, 25-17.
"We started out pretty slow, but once we got warmed up the girls played well," said LWHS coach Traci Rosenbach. "Our serve-receive was great as well as our defense."
Madi Arave and Khori Cobanovich each had five digs for the Lady Vols. Cassie Finkbeiner led LWHS with six kills. Marli Lauck and Caiti McNiven each added five.
Freshman Sadie Snay set up the Lady Vol hitters with 20 assists, and she added eight aces while serving. Arave and Sidney Clark both nailed five aces.
"They are finally starting to come together," Rosenbach said. "It is such an enjoyment to watch them grow before my very eyes. They still have a long way to go, but I am proud of their accomplishments so far."
Though still technically on the road, LWHS plays in Kingman at the Academy at 5 p.m. Thursday. In honor of 9/11, those attending are asked to wear white.
The match is the season opener for the Lady Tigers.
Boys Golf
Bulldogs struggle in Flagstaff
Kingman finished last in Tuesday's four-team match hosted by Coconino at the Continental Golf Course in Flagstaff.
Coconino won the event with 159 strokes, Raymond Kellis was second with 165, Page (170) finished third and the Bulldogs shot 242.
"My boys didn't play the best golf," KHS coach Chad Baitinger said. "However, I am proud of the way they handled the weather conditions on a tough course."
Flagstaff had a high of 68 and wind gusts up to nearly 13 mph.
Derek Jones was Kingman's leading golfer with a 50, 14 shots over par. Brad Duszynski was next in for the Bulldogs with a 57, Derek Brown shot 63 and Trey Honga finished with a 72.