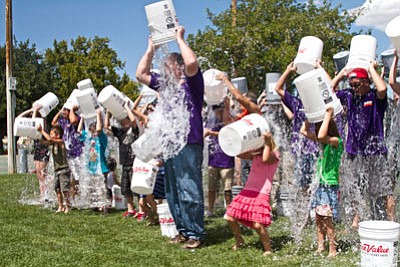 Originally Published: September 11, 2014 6:02 a.m.
KINGMAN - Top: The True Value Distribution Center from Kingman took part in the ALS Ice Bucket Challenge on Saturday at Centennial Park.
The center was challenged by a fellow distribution center and issued challenges to the remaining distribution centers within True Value as well as every company at the airport industrial park in Kingman.
Their donations to ALS will continue through the week.
Bottom: The Kingman Soccer Club U12 Boys team Red Racers also took on the ice bucket challenge to raise money for research on ALS (amyotrophic lateral sclerosis).
The entire team participated at Centennial Park last Thursday afternoon, kneeling and getting doused with ice water.
Each family donated $10 to the cause and raised $160 total.
They challenged the U11 Girls team to accept the challenge next.
As of Wednesday, the ALS Association had raised $111.6 million from this challenge.
More like this story