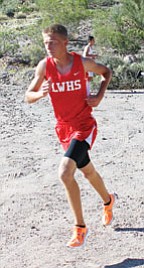 Originally Published: September 12, 2014 6 a.m.
KINGMAN - Lee Williams junior Brendon Allred beat the field by more than a minute to finish first, but the Kingman Bulldogs won the boys meet at the LWHS multi Wednesday.
Allred ran the 3.1-mile course from the school up to White Cliffs Road and back in 18 minutes, 9 seconds. Parker's Franscisco Rodriguez was second in 19:16.
Kingman finished 15 points ahead of Lee Williams for the team win, 52-67. Lake Havasu (71) was third, Parker (85) fourth, Mohave (96) fifth, Kingman Academy (165) sixth and River Valley (192) was seventh.
The Bulldogs got the edge because their top three runners - Brandon Kelly, Tanner Cardiff and Jesse Marquez - finished seventh, eighth and ninth to keep Kingman scores low. Dominic Dubay was 12th and Jay McNiven 16th for the Bulldogs.
Peyton Cardiff finished fourth for Lee Williams. He was followed by Tyson Spencer (13th), Jakob Stone (26th) and Conner Camacho (27th) for the Vols.
Kingman Academy's Sam Skankley (20:08) was sixth for the Tigers.
Lake Havasu won the girls meet with 18 points. Mohave (52) finished second, Kingman Academy (78) third, and Kingman (82) was fourth.
The Lady Bulldogs' Brianna Gastineau was the top local runner. She finished in 25:30 for sixth place. Kingman Academy's Mary Jo Lohmeyer (26:46) was 10th, and Lee Williams' Megan Barnes was tops for the Lady Vols and came in 11th place at 27:10.