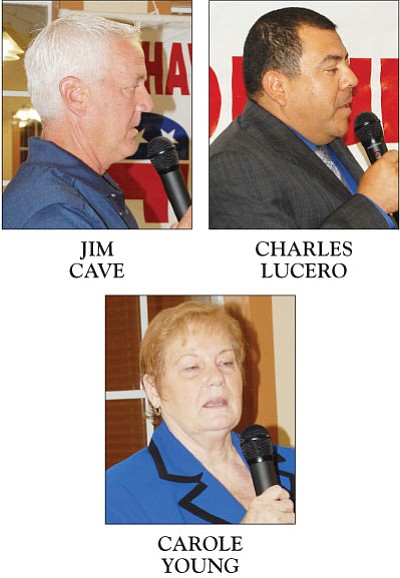 Originally Published: September 12, 2014 6:02 a.m.
KINGMAN -  Finding a way to pay teachers a better salary is the overwhelming priority for three of five candidates for the Kingman Unified School District Board of Governors.
How to make that happen is a little less clear.
The trio spoke at Wednesday's monthly Mohave Republican Forum at the Golden Corral restaurant.
Incumbent and board President Charles Lucero, former longtime city Planning and Zoning Commissioner Jim Cave, and Vice Mayor Carole Young said as much when they addressed a full room.
Each believes improving teacher pay would remedy a lot of the district's ills.
It all begins with improving morale, which in turn would lead to enthusiastic teachers eager to engage with students and their parents - and spend their careers in Kingman.
The average starting salary for a teacher in the district is about $29,000 a year, according to Lucero, significantly lower than what is earned elsewhere. Arizona is ranked among the lowest of the 50 states in teacher pay.
The ranking has consequences. The district lost fully 25 percent of its teachers from last year, and most left for better jobs.
"We're not paying teachers enough," said Cave, a 1978 graduate of Kingman High School who obtained a bachelor's degree from Arizona State University. "They got a 1 percent raise last year and can hardly make a living."
Cave said he knows of a former teacher with marginal skills who left the district last year to teach at a school in Henderson, Nev.
"He makes more than a 20-year teacher in Kingman," said Cave.
Lucero, a dentist who graduated from Kingman High in 1987 before going to the University of Arizona and ultimately to a school of dentistry in Kansas City, said the district needs to retain its teachers and the only way to do that is to pay them a fair salary.
School districts across the state lost millions of dollars when state lawmakers "swept" education funding to shore up the state budget during the lengthy recession. A federal judge has ordered the state to redistribute the funds, but no action will be taken until the Legislature convenes.
Not only did the district lose significant funding during the recession, it also lost about 200 students when their families moved away, which resulted in the loss of an additional $1 million, or $5,000 per lost student.
Cave is convinced there is money available in the current budget that could go to teachers, but Lucero noted, and not without irony, that the district needs an influx of new students - and the extra funding they represent - in order to provide meaningful pay raises.
Calling all parents
The three candidates share a belief that more parents need to be engaged in the education process.
"Partnerships are what make schools successful," said Lucero. "Partnerships between parents, teachers and students. Parents must engage."
Cave also listed the need for more parental involvement as one of his top priorities, but Young was decidedly more blunt.
"A lot of parents in this town do not care. I'm sorry, but they don't. They don't help the child and the child gets discouraged."
Here's a look at their respective stands on other issues:
Common Core
Common Core is a nationwide educational initiative designed to establish standards for students to meet.
Preparing students for college or a trade is best done at the local level, said Lucero.
"We don't need Common Core," he said. "We've been very successful in the past."
Young has a more specific concern, saying Common Core's mathematics curriculum is unduly burdensome.
She said a lesson that should require 20 minutes to teach now takes an hour.
"I understand they're trying to teach conceptual thinking, but this is too much," she said.
Young, a former college math tutor, said the district already has a number of programs in place designed to help students on both ends of the academic spectrum - there are advanced placement classes for the college-bound and technical and vocational classes for those more geared for the professional trades.
"Common Core is not the answer," said Cave. "The standards must be set at the local or state level."
Lucero said Common Core's one-size-fits-all approach is ill conceived.
"Not every student learns the same way," he said.
They also agree too much emphasis is placed on testing - and that those tests often include subject matter students have not yet studied, essentially guaranteeing a poor grade.
Young would like the district to abandon its Arizona Instrument to Measure Standards (AIMS) testing, saying it is out of date. She believes the traditional testing for college admittance, the SAT and PSAT, should be used.
Drugs, bullying
Cave said the most common complaint he hears when talking to parents about his candidacy is bullying.
He's been told that students and parents identify bullies to school officials, but nothing is ever done about the bullying.
Lucero, the incumbent, said steps are taken, but they are not taken lightly.
He said repeat offenders go to expulsion hearings. An expulsion from one district means the student is expelled from every district in the state.
Most students caught with drugs are expelled. As for bullying, Lucero said principals must be held accountable.
Sports and GPA
Many members of the audience appeared surprised to learn a student carrying a D average in school can graduate, because a D is not a failing grade - it's below average.
The issue came up when Cave, who played football for the Bulldogs, noted a student with a D average can earn a diploma, but an athlete with a D average can't participate in sports.
He said he made good grades, but some of his teammates struggled in class and only attended school to play sports.
He also said athletes need to have standards to meet. "They are the role models at our schools."
Only Republican candidates for the nonpartisan office were allowed to speak, which complies with Mohave Republican Forum bylaws.
Incumbent Jeri Lynn Brock, the board's vice president, and Beth Weisser are also running for one of three open seats.
More like this story