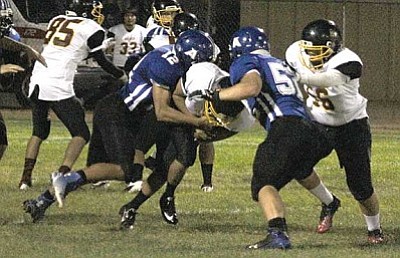 Originally Published: September 12, 2014 6 a.m.
KINGMAN - Calling today's game for the Kingman Academy High football team a test is an understatement.
The Tigers are on the road to face the defending Division V state champion Yuma Catholic Shamrocks at 7 p.m. in Yuma.
Last year, YC (2-0) invaded Southside Park and left with a 59-7 victory. Despite all that, Kingman Academy (2-0) has a blueprint to shock the world.
"That's the plan, for sure," said KAHS coach Dan Stroup. "We're in a David vs. Goliath situation. They are very well coached. Their skill kids are older, but they are younger on the lines."
Obviously the Tigers are looking for the huge upset, but it's how his players take care of business on the field that Stroup will eye.
"Our goal is to be in it at the end," the coach said. "The plan and preparation has gone well, but the execution is the question. It's a great litmus test for us."
YC has college-level players at quarterback, running back, wide receiver and defensive end. How the Tigers go up against these types of athletes is foremost on Stroup's mind.
"Sometimes going against big teams people expect you to lose," he said. "For me, it's about competition. Are we competitive and sticking with that team?
"We may find out a lot about our character. Win, lose or draw - we want to say we held our heads high."
Stroup recognizes that such a difficult game this early in the season can prove beneficial. He expects to take whatever happens tonight into the rest of the schedule.
"It's exciting to have an opportunity to play a great champion like Yuma Catholic," the coach said. "I love this type of game. This is going to make us so much better. We're not backing down from it."