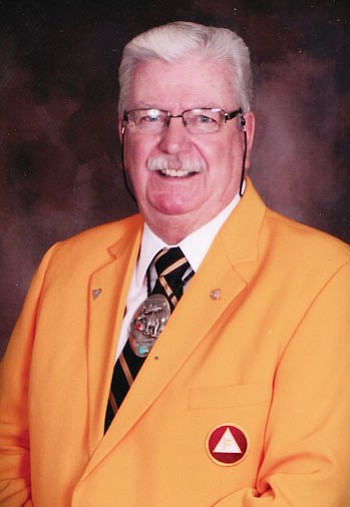 Originally Published: September 14, 2014 6 a.m.
KINGMAN - David Charles "Chip" Lorion, a member of Kingman Lodge 1704, Loyal Order of Moose, was summoned in May to receive the highest honor in the organization: the Pilgrim Degree of Merit. The award was conferred in the House of God in Mooseheart, Ill., on May 31.
Lorion will be formally presented a gold blazer, the mark of members receiving this honor, at 3 p.m. Saturday at the Kingman Lodge on Monroe Street.
"People in Kingman guided me. They helped me out to get me here," said Chip. "It's a team effort."
The Pilgrim Degree of Merit is held by only 3,000 members of the Loyal Order of the Moose, a fraternity with 1.4 million members.
Less than one-half of 1 percent of members receive the honor, which is "the Order's ultimate reward for exceptional devotion to the principles and ideals of caring for children and senior members," according to a statement from the Kingman Lodge.
"It's a lot of responsibility because your lodge looks up to you for advice and guidance," added Lorion.
The Loyal Order of Moose is an international organization of men and women dedicated to caring for children and seniors, bringing communities closer together, and celebrating life. They were founded in 1888 in Louisville, Ky., and have lodges in the United States, Canada, Great Britain, and Bermuda.
The group's main philanthropic endeavors outside of local community involvement are Moose-heart, a city for children in need located outside of Chicago, and Moosehaven, a retirement community for senior members located in Orange Park, Fla.
Lorion joined the order in 1988 under unique circumstances. He was working as a real estate agent in Michigan when a local lodge burned down. The members came to Lorion looking for a new place to hold meetings, and after finding a deal for the lodge, he came to them to close the deal. They wouldn't sign unless he joined, and he and his wife became members.
They moved to Kingman in 1997, and by May of 1998 he was Junior Governor.
Lorion is also the current Deputy Supreme Governor in the state of Arizona. The Supreme Governor presides over the entire organization, and below him are 59 deputies who represent the states and international districts within the organization.
For more information on The Loyal Order of Moose, visit www.mooseintl.org or call (630) 966-2229.