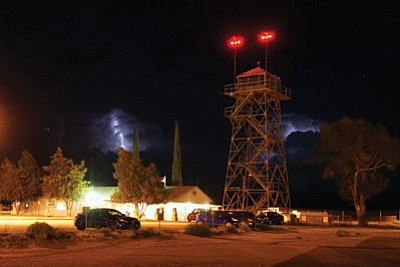 Originally Published: September 16, 2014 6 a.m.
KINGMAN - The Kingman area didn't get the deluge experienced by other parts of Arizona during recent heavy rains, but there was still plenty of precipitation - and forecasts indicate more rain and thunderstorms will move through this week.
For the Kingman area, predictions call for a slight chance of rain today, with thunderstorms likely Wednesday and Thursday. The chances of rain for those two days were forecast at between 60 and 70 percent as of Monday afternoon.
Locally, the storms were forecast to move out by the end of the week.
Phoenix, of course, experienced record rainfall last week, and more heavy rain and the possibility of localized flooding are expected across much of Arizona.
The National Weather Service said showers and thunderstorms will be generated as moisture from Hurricane Odile and the typical monsoon weather pattern increases the potential for rain.
Forecasters say chances for thunderstorms will increase substantially starting today and that flash flooding is possible as the week continues.
The remnants of Hurricane Norbert swamped parts of the Phoenix area on Sept. 8, flooding parts of freeways and sending rescuers scrambling to rescue stranded motorists.
Two people in southern Arizona died when they were swept away by rushing water.
(The Associated Press contributed to this report.)