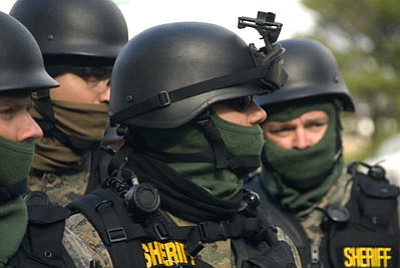 Originally Published: September 16, 2014 6:02 a.m.
KINGMAN - A new prank in the gamer world is costing police departments valuable resources and endangering both residents and officers alike.
The prank is called "swatting," and it involves a false call to local authorities that would require law enforcement to respond with fast and heavy force.
Now, with the popularity of live video-game streaming services such as Twitch, Internet viewers can watch the hoax unfold online in real time.
"It's like creating your own episode of 'Cops,'" said Dr. John Grohol, a research psychologist who studies online behavior.
A viewer who either is a rival gamer or doesn't like the streamer can look up their address and information via phone directories or by tracking an IP address. Once the viewer has that, they then call the local authorities.
"They get to see this all go down right before their eyes and, you know, it's fun for them," said Jordan Mathewson to KMGH-TV.
He was a swatting victim in August in Littleton, Colo., while playing Call of Duty and streaming it on YouTube.
The entire incident was streamed live to the site, and multiple recordings of the incident remain online.
Another caller allegedly in Florida said her father was drunk, wielding a machine gun and threatening their family.
A third caller in New York claimed to have killed his mother and threatened to shoot first responders.
More often than not, officers come into the home and find only a gamer sitting at his or her computer.
While Kingman authorities have not received a "swatting" call yet, they do have their concerns on this increasingly popular fad.
"It is a concern because it can prompt a significant response depending upon the alleged severity of the call," said Jennifer Sochocki, spokeswoman for the Kingman Police Department. "It can put residents and officers at risk because it pulls resources to address the situation."
Mohave County Sheriff's Office shared the same concerns.
"It would be taking up law enforcement resources," said Trish Carter, spokesperson for MCSO. "Our Tactical Officers Unit (TOU) takes time to assemble and get them here."
Swatting pranksters can be charged with false reporting if caught, but authorities are having difficulty catching these people because of the tactics they use to make a call. They can use programs that trick 911 into thinking that a call is coming from a victim's address, and many times these pranksters are in different states or even different countries when they make these calls.
These pranks are not cheap, either. Authorities in New York spent an estimated $100,000 to send more than 60 officers to the incident there.
"We try to confirm some facts before sending officers out," said Carter from MCSO.
Swatting captured headlines several years ago, when a series of celebrity homes were targeted in Los Angeles. Police were so concerned about copycat crimes that they stopped releasing any public information when a hoax occurred.
Officers made at least one arrest, a juvenile who targeted Justin Bieber and Ashton Kutcher.
The Associated Press contributed to this article.
More like this story