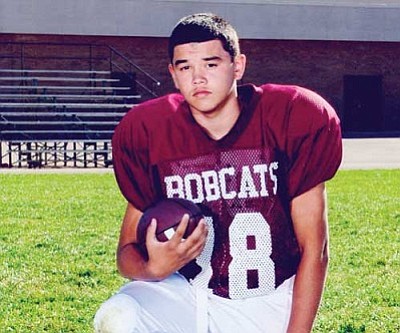 Originally Published: September 19, 2014 6:01 a.m.
KINGMAN - The irony of their son's situation as a private-school student being denied an opportunity to participate in sports at a public school wasn't lost on Alfred and Rhonda Mayo.
"If I didn't have to work a full-time job, I would have taken him out of school years ago and home-schooled him," said Rhonda. "And from what I learned at your school board meeting, at least if he was being home-schooled, he could play football at your public schools. Well, isn't this the same logic? It sounds like a double standard."
The Kingman couple was commenting on recent discussion by the Kingman Unified School District Governing Board, which is considering the issue and will vote at the next meeting. The Mayos addressed the board earlier this month with a request for their 15-year-old son, Zack Mayo, to be allowed to play football at Kingman Middle School.
Zack, an eighth-grader at Emmanuel Christian Academy, participated in the sport at KMS as a student there last year and had begun practicing for this year's season when he was told he was no longer eligible to play. The board does not have a policy in place for students from private schools who want to participate in sports and extra-curricular activities at public schools.
By Arizona law, the district must allow any student in an accredited home-school program to participate at no cost. Also, the board follows the advice of the Arizona Interscholastic Association, which recommended about three years ago that any student in an accredited online school be allowed to participate for a cost of $200.
At the same board meeting, KUSD Superintendent Roger Jacks also brought up the issue, although he didn't know the Mayos would be attending. Jacks said he contacted the district's attorneys in Flagstaff before the meeting and was advised that if the board wants to allow private-school students to participate, it should table the issue until the next meeting so the law firm could provide a legal opinion.
"One of the questions I've heard is why does our policy allow students from online schools to participate and not those from private schools," said Jacks. "That's a good question and we need to address it. But if our lawyers have concerns, we also need to get their advice before we proceed. I know this is inconvenient for the family whose son wants to play, but it's what we have to do."
During the discussion, board President Charles Lucero said he would be "strongly against" allowing private-school students to participate because they could be taking the place of district students who didn't make the teams. But board members Jeri Brock and Debbie Francis said they didn't think the influx of students would be that great and they couldn't see denying those who have no chance to participate at their own schools.
After the meeting, board member Laurie Voss Barthlow said it was the first time she had heard of the issue and she didn't realize that home-schooled and online students could participate in district activities. Barthlow said she couldn't see the difference between them and students from private schools attending sports and other activities.
"Since the meeting, I have received feedback from some staff members who have strong feelings against allowing private-school students to participate," said Barthlow. "There's nothing we can do about the home-schooled students, because that's state law. I, however, feel that we should disallow the online students if we don't accept students from private schools."
Rhonda Mayo said the couple removed their son from KMS after it received a "D" letter grade from the state last year. The school's grade improved to a "C" this year. Mayo said they applied last year for an Empowerment Scholarship, which is money provided by the Arizona Department of Education for students of failing schools to attend better schools of their choice.
When they received the scholarship, they quickly enrolled Zack in Emmanuel Christian Academy. In a letter to Jacks and the school board, the teen's parents said he has always struggled academically, consistently falling below average on the annual AIMS testing, and they wanted to provide a better education. When ECA officials said Zack could still play football at KMS, they were ecstatic.
Lindsay Bauer, principal at ECA, said the school had a verbal agreement with a middle school administrator in the past that any ECA students would be treated the same as home-schoolers if they wanted to participate in sports or other activities. But once the issue was researched, the two schools discovered a big difference between the categories. That's when Zack was no longer allowed to play.
Because he attends ECA on a state-funded Empowerment Scholarship, though, Bauer said she still believed Zack was qualified to participate in public school activities. When she called the state for confirmation, she was told that Zack could play football - if the school board allowed it. And that's why the Mayos decided to petition the school board.
"It's been heartbreaking for Zack and we feel really bad about the situation," said Bauer. "We just want to do the right thing, and if it's not legal for him to play, we don't want to hurt the district or disqualify them. But if Zack can play football, we sure would like to see him out there."