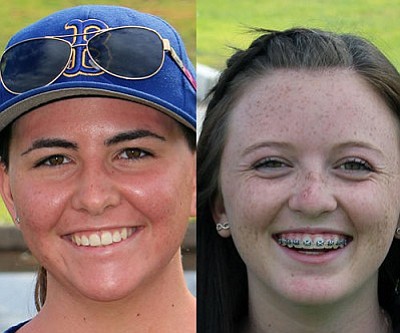 Originally Published: September 19, 2014 6 a.m.
KINGMAN - Rebekah VanKirk shot a 2-over-par 38 to win medalist, and Mariah Sammeli was six strokes behind her to take second for the Kingman High girls golf team against Peoria Centennial and Lee Williams Wednesday at Cerbat Cliffs Golf Course.
Centennial won the team event, as the Lady Bulldogs and Lady Vols did not have enough golfers qualify. Centennial shot 199.
Connie Peterson finished fifth for Kingman with a 49.
Sarah White led Lee Williams with a 53 and tied for sixth. Kaci Kay was one shot behind White, and Taylor Johansen-Gordon finished with a 65.
Both teams play at 3 p.m. Tuesday in Lake Havasu City.
VOLLEYBALL
BC sweeps Lee Williams
The Lady Volunteers made 65 errors, allowing Bourgade Catholic (3-0) to sweep them 25-20, 25-22, 25-14 Wednesday in Phoenix.
Lee Williams (3-3) only had 13 assists as a team, seven by Sadie Snay. Madi Arave finished with a team-high four kills, and Cassie Finkbeiner served three aces. The Lady Vols only managed two blocks in the match.
Lee Williams hosts River Valley (0-5) at 6 p.m. Monday.
Seligman blanks Academy
Kingman Academy (0-2) is still looking for its first win of the season after being blanked at Seligman (2-1) Tuesday, 3-0. The Lady Tigers hosted River Valley (0-5) Thursday. Results were not available by deadline. Academy next plays at Yuma Catholic (3-2) at 6 p.m. Tuesday.
More like this story