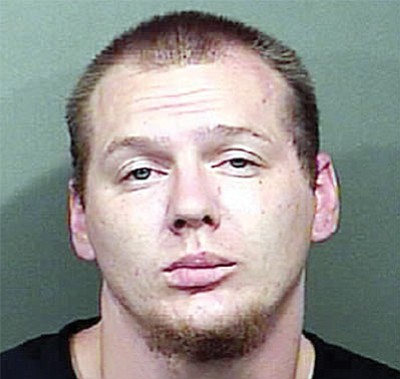 Originally Published: September 20, 2014 1:09 p.m.
KINGMAN - A search of a house in the 3700 block of Butler Avenue on Wednesday netted a variety of drugs with a street value of more than $50,000 and resulted in one arrest.
The search was conducted by the Mohave County Sheriff's Office, along with the Mohave Area General Narcotics Enforcement Team and the Gang and Immigration Intelligence Team Enforcement Mission. Entry was made by the sheriff's Tactical Operations Unit.
The search revealed about 24 ounces of methamphetamine, one gram of heroin, 15 grams of marijuana, numerous narcotic prescription-only medications, a stolen 2003 Yamaha Banshee ATV, a variety of drug paraphernalia and $7,000 in U.S. currency.
The drugs, paraphernalia and currency were seized during the search.
James Patrick Russell, 26, of Kingman, was arrested and booked into the Mohave County Jail for possession of dangerous drugs for sale, possession of narcotic drugs for sale, possession of marijuana for sale, possession of stolen property and theft of means of transportation
"This investigation is ongoing and further suspects may be charged," said Sheriff Jim McCabe.
More like this story