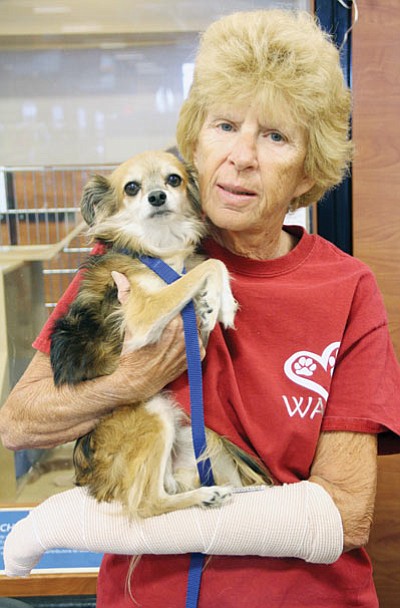 Originally Published: September 22, 2014 6 a.m.
KINGMAN - Most people would have been surprised to see Judy Green trying to find homes for stray dogs and cats this weekend at an adoption event for the Western Arizona Humane Society in a local pet store.
First, the 69-year-old Golden Valley resident was battling severe pain in her left arm and thigh that required the use of prescription medicine to keep it at bay. Secondly, Green had been savagely bitten by a dog the week before while walking in her Golden Valley neighborhood.
"I don't know how long it will take me to get back to normal or if I ever will," said Green. "But I'm not going to let this change who I am or what I do.
"I've worked all my life to do what I want after retirement. I've already started walking again, but only in areas where there are no dogs, and I'm helping with these adoptions. What happened has happened and it's over with."
According to the Mohave County Sheriff's Office, Green was walking Sept. 8 near her home on South Emery Park Road when she was attacked by a 2-year-old male lab mix dog named Scooby. Reports said the dog broke its chain and charged the woman, biting her repeatedly.
Green was taken by ambulance to Kingman Regional Medical Center.
After the incident, the dog's owner, Bradley Olmstead, was cited for not having a dog license. Scooby was placed in quarantine at the Western Arizona Humane Society for 10 days, which expired Sept. 19, and Olmstead surrendered the animal so it could be euthanized after that.
A court date has been set for Oct. 8 regarding the matter.
"It was an unfortunate accident and I feel bad about it," said Olmstead when contacted by the Daily Miner. "The dog's cable broke and we ran out to catch him. He's never done anything like this before and has been raised around my children.
"I'm going to do whatever I need to do to make things right and take care of the situation."
Green said she walks 6 to 8 miles a day and had decided to change her route that day so she wouldn't get bored. Green said she always saw Scooby on his chain across the yard when she took the route, and that day was no different - until she looked up and he was upon her.
"He always barked and pulled on his chain when he saw me," said Green. "That day, I had my headphones in and was listening to a book, and I had a waterproof jacket on. I don't know what happened but when I saw the dog, I threw my arm up. I screamed for help and people ran out. Then they called an ambulance for me."
Green received 17 stitches in her left forearm, where the tendon was separated and reattached, and nine stitches in her thigh. She was hospitalized from Sept. 8-10, and her arm remains in a cast. Green said her doctor called the injury to her arm a "horrific bite," but he believes all the infection from it was successfully removed.
"I do think something good will come out of this situation," said Green. "For one thing, it has taught me to be more dependent on other people. My husband had to buy shoes without laces because I couldn't tie them, and I need help from friends when I'm getting dressed.
"For another thing, I'm a little more patient with situations that are out of my control. This has definitely changed me."