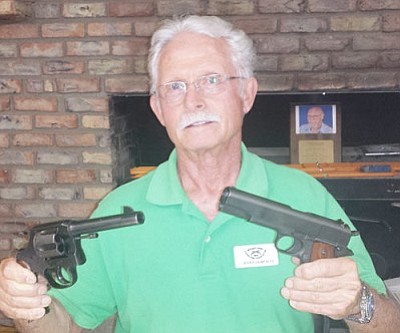 Originally Published: September 23, 2014 6 a.m.
KINGMAN - A local group of serious firearms collectors has been around the Kingman area since 2005.
They call themselves the Mohave Arms Collectors Association, and they meet once a month at the Mohave Sportsman Club's clubhouse at the 7 Mile Hill range to talk about firearms old and new and how they pertain to history.
The club, as part of the recognition of the start of World War 1 over 100 years ago, recently had a meeting featuring firearms from that era.
Pistols, rifles and bayonets were the main items that were brought to the meeting, and members explained to each other the particulars of firearms popular at that time.
To anyone who is interested in history, this was a real eye-opener as to the who, what, where and why war started.
It was hard to believe that in the room were firearms made over 100 years ago.
Most of those firearms were still in great condition and bore the military markings of both sides of the war.
Keith Gilbert gave a short history lesson on why the war started.
It started as a result of the assassinations on June 28, 1914, of the Archduke of Austria, Franz Ferdinand, and his wife, Sophie, by a Serbian national, Gavrilo Princip.
What was surprising was the fact that the United States didn't enter the war until after it had been going on for several years. The decision by the United States to join the war was partially due to the sinking of the Lusitania by the German navy on May 7, 1915.
The Lusitania was coming from New York to Liverpool, England, and had 1,959 passengers on board. It also contained munitions and other war material.
The ship, a British ocean liner, was torpedoed by a German U-Boat and 1,200 people, including 128 Americans, died.
That was all that America needed.
The war machine produced hundreds of thousands of firearms, with most of them being machined rather than stamped out. The workmanship of these battlefield firearms is still present to this day.
Collectors like those in the MACA have put together private collections of these valuable and, in most cases, rare firearms.
Meetings for the group are on the last Thursday of every month. Doors open at 6 p.m. with the meeting starting at 6:30 p.m.
The meetings, which are open to the public, are family-oriented.
For more information, call (928) 764-1739.