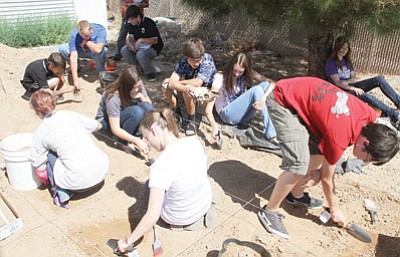 Originally Published: September 23, 2014 6 a.m.
KINGMAN - Donna McCarthy wasn't about to let the financial constraints within the Kingman Academy of Learning school district keep her history students from experiencing an archaeological dig.
"With the budget issues we have these days, there's no money to go to real archaeological sites," said McCarthy, a teacher at the high school. "So we created our own. I think it's important to make history real and relevant, not just something students read about in books.
"When they're actually doing something, they discover new things."
The 36 students in McCarthy's Early American History class gathered behind the high school for three class periods recently as they scraped dirt, sifted rocks and gently uncovered seashells, beads, pottery pieces, turquoise, animal bones and parrot feathers. They also unearthed rusted metal items buried on top of the artifacts, signifying pioneers who moved here later.
McCarthy buried the items to show students what might be found at an actual excavation site of the Anasazi people, who were the ancestors of today's Native Americans in northern Arizona. With each discovery, students were required to map the item's location on the grid and take photographs to show what it looked like in the dirt.
The history section also included classroom lessons on archaeology, carbon dating and forensic police work. After the high-schoolers finished their work, the items were re-buried so the district's fourth-grade students could experience the dig, which is a first for KAOL.
Tess Axen, a 17-year-old exchange student from Stockholm, Sweden, worked two sections of dirt with her partner, Matthew Hudson, and found pottery pieces and an animal skull. Axen, who has been here about a month, said only the biggest events in American history - especially World War II - are studied in her country.
"I knew nothing about the Native Americans, and this is very interesting," said Axen. "It's really fun to do practical things like digging for artifacts. We wouldn't do anything like this in Sweden, and I was excited when I heard about it because it's so different from what we do there."
Nearby, Mathew Larke, 17, mapped out the location on paper of the pottery pieces he and his teammates, Trace Roby and Daniel Wright, had just revealed as they swept dirt away with paintbrushes. Larke said they were learning what archaeologists actually do and how backbreaking and painstaking the work can be for them.
"It's fun to locate the artifacts and figure out what they are," said Larke. "Before we started this dig, I didn't think I'd be too into doing it.
"Being an archaeologist is not as glamorous as the movies show it to be, like Indiana Jones, but it is interesting and I'm enjoying it."