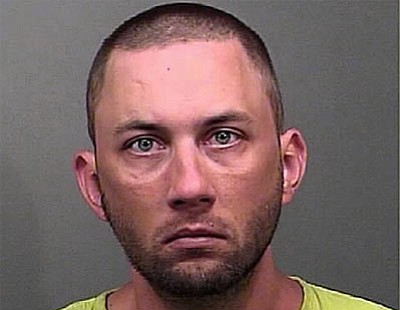 Originally Published: September 25, 2014 11:25 a.m.
KINGMAN - A Wisconsin man wearing a disguise over his head and face left empty-handed - and in cuffs - after attempting to rob a Kingman bank.
Kingman police arrested Shawn William Malmin, 31, at 12:12 p.m. Wednesday after a short foot chase in the 3300 block of Stockton Hill Road. He was charged with felony robbery and booked into the Mohave County Jail.
Police responded to a 911 call at 12:02 p.m. about an attempted robbery that had just occurred at Compass Bank, located in the 3300 block of Stockton Hill Road. The suspect, identified as Malmin, left the bank on foot in the direction of Kingman Regional Medical Center.
An investigation revealed that Malmin allegedly entered Compass Bank wearing a disguise and demanded that employees fill a bag with money. When the bank teller was unable to assist Malmin with his demand, he left.
Malmin did not display any weapons, according to police, and no one was injured during the incident. No other customers inside the bank branch were approached by Malmin during the incident.