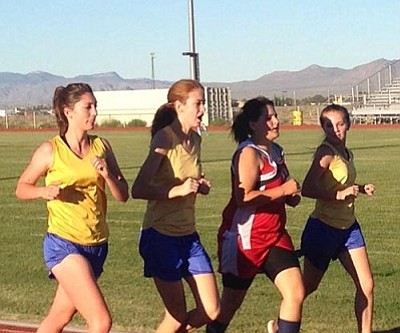 Originally Published: September 26, 2014 6 a.m.
KINGMAN - Sometimes it doesn't matter who wins. Sometimes, it's about how things are played out. At Wednesdays' cross country meet at Kingman High, the Lady Bulldogs went above and beyond as hosts.
River Valley only brought one girl, Kristina Amantract, to the meet. She finished last and appeared to be struggling near the finish as Kingman's Brianna Gastineau, Megan Gaul and Jessica Baca were running their cool downs. The trio of Lady Bulldogs joined Amantract and helped get her to the finish line.
"They did that on their own," said KHS cross country coach Anne Bathauer. "It was a great showing of sportsmanship, and that is the goal of athletes. We pick each other up. I was very proud of my ladies. I'm so lucky to have great young people to coach."
Kingman finished third in the girls meet, led by Gaul's fourth-place finish. Lake Havasu took first, followed by Mohave, and Kingman Academy finished fourth.
Gaul was followed by Gastineau in sixth.
The Academy's top finisher was Mary Jo Lohmeyer in eighth place.Lee Williams' Brendon Allred won the individual boys race, and Kingman took first in the eight-team event.
"It was dry, flat and not much wind," Allred said. "It's been like this all week, so we were ready for it."
"I'm happy with where I'm at right now, but there is always room for improvement," he said.
Kingman was led by Jesse Marquez's fourth-place finish. Brandon Kelly took ninth for the Bulldogs, Kaegan Rivedal was 10th, Tanner Cardiff 12th and Dominic Bond was 13th.
Lee Williams finished in second place, 16 points behind Kingman. Peyton Cardiff ran third
Kingman Academy was seventh with Sam Skankey taking seventh place.
GIRLS GOLF
KHS keeps rolling
The Kingman Lady Bulldogs finished 1-2-3 in Wednesday's four-team event at Cerbat Cliffs Golf Course and cruised to the win.
The Lady Bulldogs shot a 43-over-par 187 to beat out Cactus, Peoria and Lee Williams.
Mariah Sammeli took medalist honors with a 7-over-par 43.
Rebekah VanKirk shot a 44 for second, and Samantha Hernandez was third with a 46. Connie Peterson shot a 54 to finish tied for seventh for Kingman.
Lee Williams' Kaci Kay shot a 62 and Sarah White came in with a 65 for the Lady Vols.