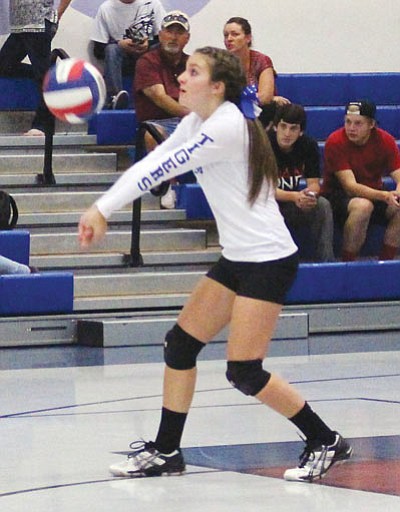 Originally Published: September 28, 2014 6 a.m.
KINGMAN - The Kingman Academy volleyball team showed lots of resiliency Thursday, but it was the Kingman Lady Bulldogs who prevailed 25-23, 25-19, 25-21 at KAHS.
"I was impressed with the Academy," said KHS coach Greg Sumsion. "Their feet were moving, and they were scrappy. "
After an AIA-inaugural season a year ago with three wins, Academy coach Bryant Morrison is ready for his team to move up.
"We're past just competing. We need to figure out how to win," he said. "We're in the games, now we have to win. That's the part where we need to keep improving."
His point can be emphasized by the first set. The Academy (1-4) trailed 20-16 and fought back to tie it at 23-23. But two consecutive errors by the Lady Tigers gave Kingman (5-4) the win.
The Lady Bulldogs opened a big lead in the second behind the serving of Megan Gaul. Kingman was up 20-10 before closing it out, 25-19.
The Lady Bulldogs wrapped up the match in the third by winning nine of the last 14 points after the set was tied, 16-16.
"We took a set from Parker after losing one 25-9," Sumsion said. "That showed me signs of a mentally tough team."
Desirae Gonzalez led Kingman with 11 kills and added seven digs. Liz Angle had 10 assists and Taylor Dabb recorded eight digs.
Getting the win was most important for the Lady Bulldogs, but Gonzalez, a team captain, would like to see more from her team.
"We have those moments when we play really well together," she said. "But we have those moments when we lose control, and that was evident in this match."
For Kingman Academy, Breanna Weber and Alexis McDade finished with six kills. Tara Sherwood dug up 22 balls, and Kiersten Kinsey served four aces.
Academy plays at MALC (2-6) at 6 p.m. Monday in Bullhead City before opening its Division IV Section II schedule by hosting Parker (7-1, 1-1) at 6 p.m. Tuesday.
Kingman also opens its D-II Section VI schedule at 6 p.m. Tuesday at Peoria (3-5, 0-1).