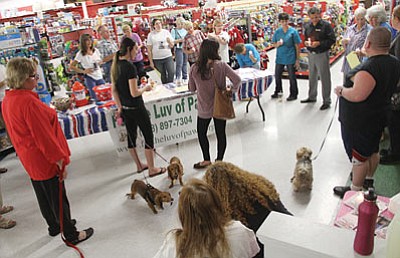 Originally Published: September 29, 2014 6:02 a.m.
KINGMAN - For the Luv of Paws hosted the Second Annual Remember Me Candle-Lighting Ceremony Thursday at the Kingman Petco.
About 25 people attended the ceremony and lit candles in remembrance of the over 3 million cats and dogs euthanized at shelters across the country each year, largely because there simply are more animals than homes available for them.
The event also highlighted the many healthy, adoptable animals awaiting a home right now in local shelters and rescues.
Pastor Alex Wilson said a prayer and Steve Jenkins, administrative manager of the Lake Havasu City Western Arizona Humane Society, lit the first candle.
At bottom, Carol Vine holds a candle and her dog, Lucy, a poodle that was rescued from the desert.
More like this story