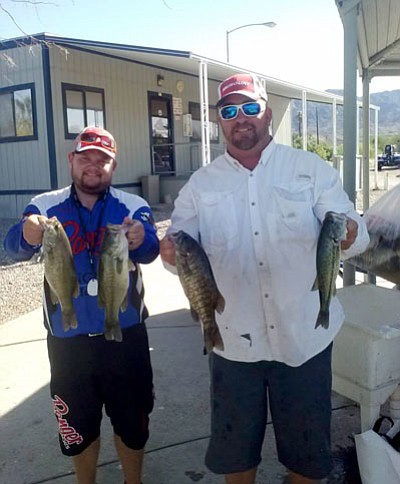 Originally Published: September 30, 2014 6 a.m.
KINGMAN - The team of Micah Jones and Luke Eggers brought in the heaviest five-fish stringer to win the Kingman Bass Club's monthly bass tournament. The tournament was held out of Park Moabi on the Colorado River below Needles, Calif.
Eleven teams participated in the one-day tournament.
Jones/Eggers had a five-fish limit that weighed 11.57 pounds.
Second place went to Jim Guin, who fished by himself. Guin brought in a limit of bass that weighed 11.45 pounds.
Third place was Norm Montgomery and Bobby Schooler, whose limit that weighed 10.12 pounds.
Fourth place was taken by Roger and Mike Miller with a five-fish limit that weighed 10.03 pounds.
The big fish of the tournament weighed 3.35 pounds and was brought in by the farther/son team of Dave Hilton.
Per club bylaws, all of the fish were returned alive to the river after the weigh-in was finished.
The KBC's annual fish off will be held out of Cottonwood Cove, Nev., on Nov.1-2.
The club is also considering changing its bylaws to allow young anglers to fish in club tournaments.
Current bylaws state that a participant in any club tournament must be over 16 years of age.
More like this story