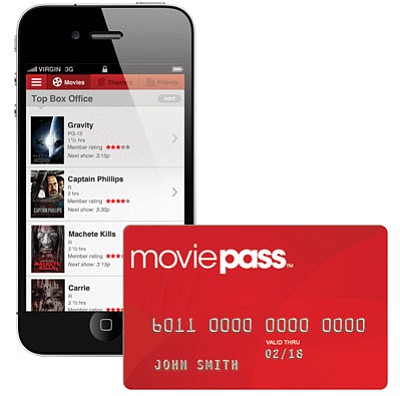 Originally Published: September 30, 2014 6 a.m.
Avid moviegoers have a subscription service that is poised to help anemic box office numbers and get people going to the theater again.
The service, MoviePass, has been around in some form since 2012. The premise is simple: users pay $30 a month (with a one-year commitment) and that user can go to a movie theater an "unlimited" amount of times that month. The service also allows customers to pay up front if they want to give the service to someone else as a gift.
Before going to the theater, a user will check in with the MoviePass app (think FourSquare, using GPS and location services) to let them know what movie they are going to see and at what theater. The service then deposits the exact ticket price on a special MoviePass debit card, and a user just swipes the card like any other Discover card at the box office.
Their restrictions are that a user cannot go to the movie theater more than once a day, and they can only see a specific movie once (i.e. no multiple viewings). MoviePass is also restricted to 2D movies only, and can only be used in conjunction with a smartphone.
"We are, at heart, a tech startup, and are dealing with that world of clever phones that will allow us to do cool things in the future like scannable tickets on your phone or social sharing," said Ethan Mantel, director of marketing at MoviePass, via email.
"I don't see us moving in an offline direction at this point."
Certain chains also refuse to accept the service, but there aren't many. Harkins Theater in the Phoenix area is one of those chains known to deny MoviePass goers.
Even with those restrictions, regular moviegoers can save a significant amount of money using the service right here in Kingman.
According to Jacob Niemi, chief of staff at Brenden Theatres in Kingman, the theater gets on average eight different movies over the course of a month. A moviegoer who goes to see each movie will spend $62 total if they go to all normal showings ($7.75 a showing) and $46 total if they go to all matinee showings ($5.75 a showing).
To make the MoviePass worth it, a moviegoer in Kingman would have to go to four different normal showings or six different matinee showings. While there might not be that many quality movies coming through Kingman in a month, MoviePass works in Laughlin as well. A showing or two there a month is worth it to get the movies that Brenden Theatres misses.
And because MoviePass is simply uploading money to a Discover card, the theaters that won't accept the service are few and far between.
At a time when box office numbers are down significantly (year-to-date is 5.6 percent less than 2013) due to rising ticket costs, sequels galore, and affordable home theater systems, a service like MoviePass might be just what Hollywood needs to get people back to the movies.
Studies conducted during their beta phase showed that the service increased movie attendance by 64 percent for subscribers. That's more box office revenue for Hollywood and more concessions sold for theaters.
Popcorn, at this time, is not included.