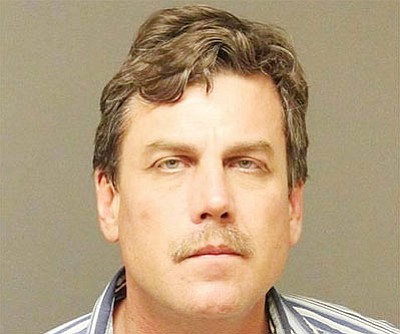 Originally Published: April 1, 2015 6 a.m.
KINGMAN - A Seligman man stands accused of slapping his 76-year-old mother and robbing her after Mohave County Sheriff's deputies responded to a domestic violence call Sunday evening.
Ty Jonathan Hafley, 50, was charged with felony robbery by domestic violence and misdemeanor assault by domestic violence after the alleged victim told deputies she returned home with dinner for her son and granddaughter at about 7 p.m.
For whatever reason, Hafley allegedly became "extremely angry" and slapped the woman, according to sheriff's office spokeswoman Trish Carter.
He then demanded he give her cash, according to Carter, and left the home after she gave him $40.
The woman met deputies in a store parking lot in the 3300 block of Andy Devine Avenue. Deputies reportedly observed her face was injured. They responded to the woman's home in the 4000 block of Long Mountain Road.
Hafley reportedly denied striking his mother or taking her money.
He was taken into custody without incident.