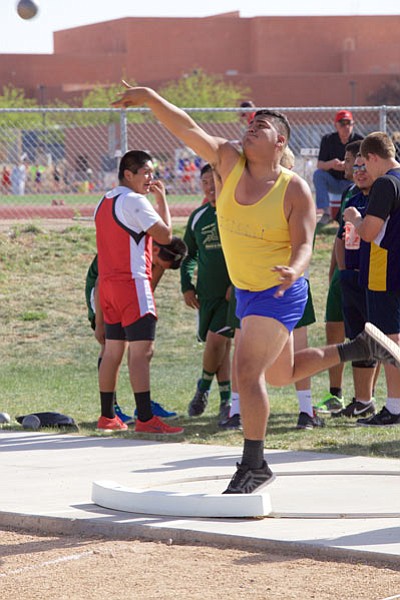 Originally Published: April 3, 2015 6 a.m.
KINGMAN - The Kingman Bulldogs grabbed third place in both the boys and girls meets as hosts of the Kingman Multi Wednesday at KHS.
Kingman earned first-place finishes from Courtney Mosser (girls 100 hurdles), Chris Volk (boys 400), Dominic Dubay, Tanner Cardiff, Andrew Jenks, and Christian Barrios (boys 4x800 relay), Desirae Gonzalez (girls discus and shot put), and Abraham Ruelas (shot put).
Gonzalez is wrapping up her junior year and is competing in track and field for the first time. She is using track to continue her basketball development but is showing just how much of an athlete she is. Her discuss throw (105 feet, 7 inches) has her in the top 15 in Division II, and she hasn't even learned the spin technique yet.
Though track may not be her main sport, she takes it as seriously as she does basketball.
"They expected a lot of me coming into track, so it's about meeting those expectations," Gonzalez said. "I'm happy with these accomplishments because it's only my first year in track."
Though the discus and shot put may be her strongest events at this time for the team, Gonzalez did compete in the 4x800 relay for the Bulldogs and has her sights set on another event.
"I really do like the 400," she said. "I really like the competition in that event. The adrenaline gets you and it's fun to hear your team cheering for you."
Ruelas' throws have him ranked in the top 20 in both events, and the senior won't be satisfied until he knows he's guaranteed a spot at the state meet.
"I want those automatic qualifying marks for state," Ruelas said. "I have to be more explosive and need to stop stopping in the middle of the ring."
He's getting a lot of the necessary repetitions that should bring him closer to his goals in between meets.
"We're working on our stuff fairly well," he said. "I'm getting my competition throws down in practice."
Gonzalez, Ruelas and the Kingman track teams compete again at 4 p.m. Wednesday at the Mohave Multi in Bullhead City.
More like this story