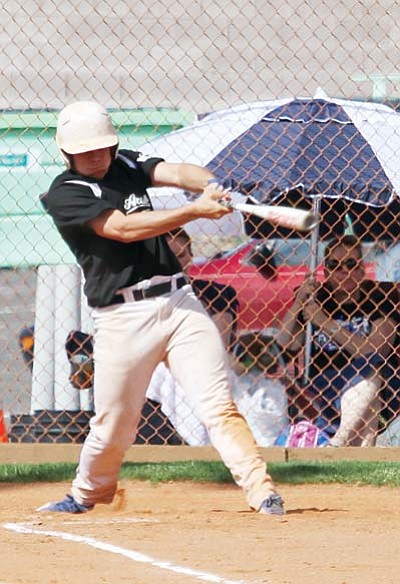 Originally Published: April 5, 2015 6 a.m.
KINGMAN - After Bagdad broke up Josh Allen's no-hitter in the seventh inning with three hits and four runs to seemingly steal a win, Academy's Chy Banda blasted a two-run walk-off home run down the left-field line to give the Tigers a 6-4 win.
It was Banda's first high school home run.
"It makes it so much better that my first was a walk-off," Banda said. "It was an inside pitch, and I turned on it."
The outfielder said he knew it was gone once it left his bat.
"I felt it right away," he said. "It was just a question of fair or foul."
Allen was in total control through six innings for the Academy (7-3 D-III). Bagdad (4-2 D-IV) had just one baserunner, who reached on an error in the fourth. He got the first out in the seventh on a strikeout, but then the wheels fell off. Allen surrendered a single, a walk, another single and a double before being relieved by Cody Quick, and the Tigers headed into their half of the seventh trailing, 4-2.
"It looked like Josh got tired in the seventh," said KAHS baseball coach Bill McCord. "It looked to me like he lost some velocity."
Allen struck out 10 but got a no-decision for all his work. Quick picked up the win, striking out one Sultan.
Banda finished with two hits including a double. Taylor Thomson went 1-for-3 with a key double in the seventh.
"Thomson has been hitting the ball hard," McCord said. "I've got a lot of confidence in him with the way he's playing."
Jarrett Griffith also had two hits for the Tigers, including a double.
Academy next plays at Sedona Red Rock (5-3 D-III) at 1 p.m. Monday in non-section action.