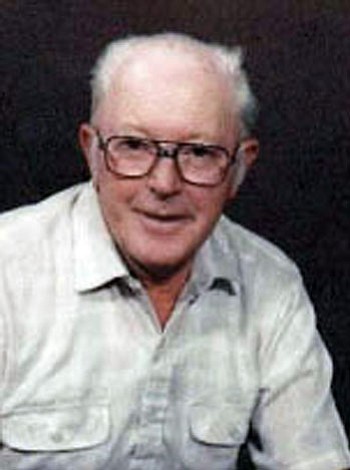 Originally Published: April 5, 2015 6 a.m.
Clarence Eugene Fry, 85, of Kingman, passed away surrounded by his family on March 28, 2015. He was born on March 20, 1930, to Clifford and Sylvia Fry in Oroville, Wash. His family was important to him and he would travel long distances every year to attend family events.
He grew up hunting and fishing in Northeastern Washington. He served six years in the Alaska Army National Guard, ending his service as an E5.
He was a driver from an early age, cab driving in Kodiak, Alaska, and Seattle. He drove logging trucks, was a crane operator, grease monkey, a carpenter, a miner, a farmer, and later was a long haul driver. He provided security for construction sites up until he was 82.
He loved traveling as much as he loved to come home. He was a life-long member of the Fraternal Order of the Eagles and the North American Fishing Club. He was an avid hunter, a pool shark, and a lover of good comfort food.
He lived in Alaska in the 1950's, where he married Ruthe Chase in 1953. His family began to grow and his first three children were born there, Deborah, John, and Scott. In 1959, they moved back to Tonasket, Wash., where his daughter Katie was born. In 1962, he and his family moved to Issaquah, Wash., where Sharon was born.
In 1969 he divorced Ruthe, and in 1971 he moved to Colorado and started his own construction company. He was married to Jeanette Sparrow in 1973. They spent 40 years together, working and traveling the country, from Colorado to Nebraska and Oregon to Arizona, where they spent the last 16 years.
Clarence is preceded in death by his parents and his son Scott, his brothers George and Ronald, his sisters Grace and Josephine, and wife Jeanette.
He is survived by his daughter, Deborah Forslin of Palmer, Alaska; John Fry of Kingman, Katie Dearman of Everett, Wash., and Sharon Fair of Kingman; 11 grandchildren and nine great-grandchildren; sister Carol Leslie of Chesaw, Wash.; and many nieces and nephews.
The family would like to thank the KRMC Hospice for the excellent care and support they provided.
Clarence leaves behind a loving family, many friends and neighbors who are all missing him greatly.
Funeral services were held at 11 a.m. April 4, 2015, at the First Church of the Nazarene, 4715 Stockton Hill Road. Burial of his ashes will be in Riverside, Wash.