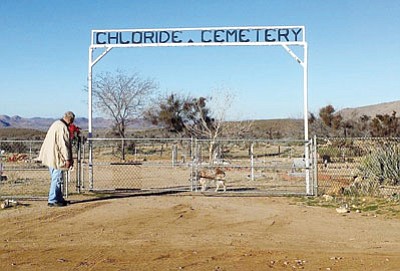 Originally Published: April 6, 2015 6 a.m.
CHLORIDE - Sylvia Giles visits Chloride Cemetery whenever she can to spruce up a memorial marker for her mother and brothers. Her sister's in-laws are among the more than 900 people buried there.
Sometimes, Giles takes pictures of various headstones at the historic cemetery where burials date back to 1904.
That's why she'll be celebrating a ribbon-cutting ceremony at 10 a.m. Friday for a 900-foot section of Patterson Road that's been realigned from Tennessee Avenue to the cemetery's north side.
"It's a very popular cemetery," said Giles, a Chloride resident since 1992 and secretary-treasurer of the Chloride Cemetery Association. "It's a big deal to us, to the town and the board and anyone with someone who's buried there."
The gravesites of Metcalf Baker and Andrew Judson, two miners who died in 1866, are located just outside the cemetery fence along Patterson Road. There are 160 veterans buried in Chloride, including one from the Civil War.
Giles knows the lay of the land and takes a dirt road that's been in existence for 100 years to access the cemetery from the north.
However, landowner Kim Rounds exercised his legal rights in September 2013 and asked the county to remove a stop sign, street sign, cemetery sign and cattle guard on a 520-foot portion of Patterson Road that crossed his land. He wanted to fence off the property for a horse pasture. He also asked the county to discontinue road maintenance.
That forced visitors to travel an extra 2½ miles over a twisting, turning gravel road subject to flash floods to reach the cemetery from the south side.
The cemetery association realized a problem with legal access. The north end of Patterson Road goes through Rounds' property and the south end crosses 50 other private properties whose owners could assert their legal rights, leaving the cemetery land-locked.
"How are we going to bury someone? Bring them in by helicopter?" Giles asked.
Rounds left the road open for cemetery burials, but road signs directed the public to the south entrance to the cemetery.
The association went to Mohave County for assistance in obtaining right-of-way clearance from the U.S. Bureau of Land Management and for construction of a new road alignment from Tennessee Avenue to Patterson Road.
Supervisor Jean Bishop, whose district includes the historic Chloride mining town, recognized that it was difficult for out-of-town visitors to locate the access road, and there was no established public right-of-way by fee title or easement.
The Board of Supervisors voted 5-0 in January to establish a 0.2-mile section of Patterson Road as a county highway to provide public access to the cemetery grounds.
The county applied to the BLM to establish right-of-way across federal lands to develop the new Patterson Road alignment. BLM processed the application at no cost to the county and completed an environmental assessment of the proposed alignment.
In November, the Board of Supervisors accepted BLM's right-of-way assignment.
Mohave County Public Works completed the road section and met standards for ongoing maintenance of gravel roads under the county's road maintenance system.
"Public Works executed an expedient, professional effort toward achieving a quality road section across the realigned right-of-way to the satisfaction of all involved stakeholders," Public Works Director Steve Latoski stated.
Supervisors are expected to approve a consent agenda item at today's meeting that authorizes Public Works to install a stop sign at Patterson Road and Tennessee Avenue.