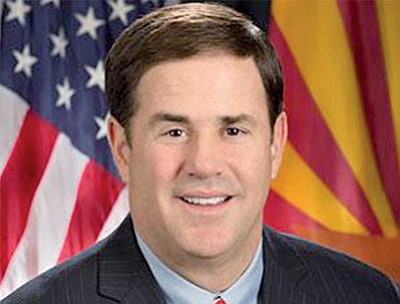 Originally Published: April 10, 2015 6 a.m.
PHOENIX - Arizona Gov. Doug Ducey on Thursday asked the board that oversees the state's three public universities to come up with a new strategic plan that cuts administrative expenses and makes college more affordable.
But Ducey also made no promise to the university Board of Regents that they might see higher funding to help cover that goal. Instead, he said deep cuts in university and other funding he signed off on in the upcoming budget might be permanent.
Ducey's appearance comes about five weeks after he signed a budget that cut 13 percent, or $99 million, from state funding of universities. Those cuts have prompted talk from some regents that the state is falling short of its responsibility under the state Constitution to fund universities at a level that allows them to provide an education as "nearly free as possible."
Regents Chairman Mark Killian said he welcomed Ducey's willingness to sit down with the regents to come up with a new strategic plan. And he acknowledged that universities have had a hard time convincing the Legislature that they are worth the $657 million lawmakers appropriated for the budget year beginning July 1.
But Killian has asked the board's attorneys about whether a lawsuit against the Legislature might be possible. There is no decision looming on that that question, he said.
"I think the bottom line is no matter who the governor is, who the Legislature is, who the regents are, there is a constitutional question that needs to be addressed," Killian said. "It would always be best if we could do that either at the ballot box or the Legislature rather than a lawsuit. But at some point we have to come to some sort of recognition of what the Constitution says."
The regents have been reviewing finances at Arizona State University, Northern Arizona University and the University of Arizona and are expected to release tuition proposals for the 2015-2016 school year on Friday. Killian said he didn't know if tuition increases would be proposed.
In Ducey's remarks, he said the universities' new plan should focus on quality, growth, the interconnected nature of higher education and economic development and efficiency. He also said the regents should not expect more money.
"The plan should identify a sustainable enterprise financial model that counts on the state as one of many investors," Ducey said. "While universities provide a critical and important public service, state support is not and cannot be the only financial driver of the future growth of our university system."
He also said the plan should consider whether the universities need to make changes to become more affordable. All three state schools have boosted tuition dramatically in recent years. ASU, for example, has increased tuition and fees by 25 percent since the 2010-2011 school year.
"The plan should respect the most important consumers in higher education, students and parents, by identifying changes that would increase the access to our universities and make our colleges more affordable," Ducey said.
Regents President Eileen Klein has been floating a proposal to withdraw the universities from the state pension plan and state employee health insurance plan as a way to save money. Ducey said he'll be open to such new ideas.