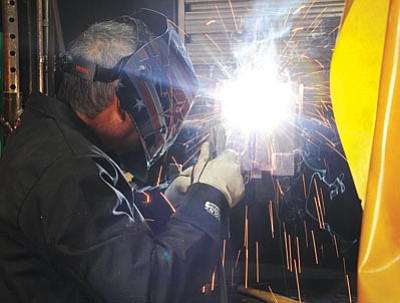 Originally Published: April 10, 2015 6 a.m.
KINGMAN - Toni Hupp would like to see more development at Kingman Airport, but that's something she's been dreaming about for years.
"We're not using the airport," said Hupp, a retired Kingman resident since 2001. "Now we're losing Great Lakes (Airlines) and that's too bad."
The airport is an integral part of the multimodal transportation system that gives Kingman the highest hope for future economic development, business leaders said Wednesday evening at the Mohave Republican Forum.
The biggest challenge that Kingman faces is the perception of an uneducated workforce, said Yvonne Woytovich, chief executive officer of the Kingman Chamber of Commerce.
Some of the challenges that were identified in a 1998 study by the American Institute of Architects remain the same, like making Kingman a destination for travelers, rather than a place to stop for gas and food while they're passing through, she said.
"It was a good honest look at our community by outsiders," Woytovich told about 100 people attending the forum at Golden Corral restaurant. "They talked about different groups that don't work together and the issue of trust. They talked about capitalizing on downtown and preserving it as an economic driver."
Doug Adams, an executive at Nucor Steel and president of the Chamber, said he feels pretty good about Kingman. It's a strategic location for industrial development, and not the "smoke stacks" that were formerly associated with industry, but modern industry such as renewable energy and information technology, he said.
"We sit on a major interstate. We have a major rail line and an airport that can support a 747. We have water, electricity, all the tools we need. Just think of the importance manufacturing has and what that brings. We don't want to see this turned into a major metropolis, but there is room for manufacturing," Adams said.
It was manufacturing that won World War II for America and its allies, Adams said. The United States produced more planes in 1944 than Japan did from 1939-45, and U.S. shipyards replaced all the ships that had been sunk at Pearl Harbor within two years, he noted.
"I just want to stress what made us great, that we make things, and that's what we want to do here in Kingman," Adams said.
Nucor Steel, profitable in Kingman since 2010, infuses a $6 million annual payroll into the local economy, and donates to charitable causes and civic organizations, he added.
Still recovering
Kingman Airport Authority, which manages the 4,000-acre airport and industrial park, has a "solid" business plan to attract businesses whose market is primarily Southern California, but they don't want to be there, said Bob Riley, economic development director at the airport.
Kingman is logistically "well-heeled" with the BNSF railroad, a major east-west interstate, a main gas line and two trunk lines for fiber optics, he said.
More than 33 million people live within 350 miles of Kingman, and that market will always be there, Riley noted: "That's a substantial market that can be served by Kingman. That's where our future lies. How can we best service this market?"
"Now the biggest question I see is, can we adapt to changes in manufacturing and industrial development? We see more communication resources companies. Everything is going digital. We're looking at different skill sets. Can we keep up? Can we adapt?"
Riley said the airport had a long and successful period of growth, but everything has been quiet for the last few years. That's the economy nationwide.
"We anticipate things to pick up, but not until 2017," he said.
Economic development covers a broad spectrum of expectations, and some people confuse retail development with commercial development at the airport, Riley said.
It's also a way to diversify the economy and create jobs and a stable tax base.
"So economic development is a balance, depending on where you are and what your goals are," Riley said. "We want sustained growth. Kingman had 3 percent growth for years and years, and then it went bonkers and we grew at 12 percent. We weren't keeping up with our infrastructure needs and the market fell out and we're still recovering."
Goosing growth
New York is advertising no taxes for 10 years to attract new business. That would be nice for Kingman, but probably not very realistic, Nucor's Adams said.
There are some incentives that would be beneficial to bringing manufacturers to Kingman such as long-term electricity rates for large power users. That's one of the things Adams kept harping on when he was on the governor's energy task force.
"We developed a good relationship with UniSource (Energy Services). We're one of their largest energy users," he said. "We pay a certain rate and it's pretty high. We pay $2.2 million in electricity a year. So what can we do? Convince the Arizona Corporation Commission to establish an industrial power rate throughout the state."
He looked at state Rep. Regina Cobb, who had been introduced at the forum and spoke briefly about the Legislative session that wrapped up last week. She said it's something legislators could work on between sessions.
"Also, property tax rates in our area are substantial," Adams continued. "Those things would be a big deal for industry moving to our area."
As for a qualified workforce, Adams said Nucor is working on a partnership with Mohave Community College to offer associate's degrees for welders and journeyman electricians. There's no school within 100 miles or perhaps in the state of Arizona with a welding program like MCC's, he said.
"Now the push is technology and computers and software," Adams said. "Everyone wants a cushy job in an air-conditioned office, but I think there's a new explosion in learning trades again."
Woytovich, who was hired by the Chamber in August, said the Chamber has been working with the Kingman and Mohave Manufacturers Association to focus on workforce development. KAMMA has put together an internship program using a mobile training unit.
"One of the things we're working on is to make sure we have a workforce to meet demands," she said. "We have to make sure our people here are qualified. That keeps residents here and builds the community."
Hupp said the forum speakers tended to be a little "long-winded," but they did a good job explaining the issues.
"Everybody wants to grow and the world is overpopulated," she said. "Now where are these people coming from for growth? That's the only problem. We keep saying we need growth. I haven't heard a good explanation of growth.
"I don't like empty buildings and I see a lot of empty buildings in Kingman and I'd like to see those buildings fill up before we do new building."
More like this story