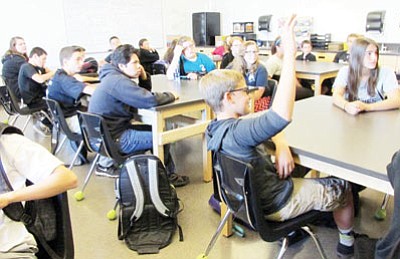 Originally Published: April 10, 2015 6:02 a.m.
KINGMAN - When college-prep test scores came back recently for 28 of Todd Cobanovich's seventh- and eighth-grade students at White Cliffs Middle School, he almost couldn't believe the results.
Of those who took the American College Test (ACT), a college entrance exam usually taken during the later high school years, all of them scored well enough to attend specialized college programs this summer. Another six students will take the ACT test this month.
"When we got the results, it was just stunning," said Cobanovich, a Cambridge math teacher. "It was really neat to see that they had all qualified. For 40 minutes each school day for six months, I gave them everything I had and tried to expose them to higher-level math. But I guess I set the bar too high, because I don't know how we're going to top this next year."
The 28 students qualified for the Johns Hopkins University Center for Talented Youth, a program connected with the prestigious Johns Hopkins University in Baltimore that was brought to Kingman Unified School District last year.
Educators from Gadsden Elementary School District 32 in San Luis, Ariz., near Yuma, have been participating in the program to help their middle school students improve test scores and shared it.
Kingman Unified School District was looking for ways to increase educational training for students and steer them into programs that would provide future career options. It instituted the GESD program last fall at White Cliffs and Kingman middle schools, and the first classes took the ACT test in February.
Wallis Alexander, Cambridge math teacher at KMS, said 13 of his math students took the ACT test, and all qualified for the special program. Another 11 students at KMS will take the test this month. Alexander's ACT class is composed of only eighth-graders.
"I think this kind of program definitely benefits our high-achieving students," said Alexander. "It reinforces what they learn in math, and when they take the ACT test, it gives them a great opportunity to see what will be expected of them in a few years."
Johns Hopkins University Center for Talented Youth is a three-week summer program for students that offers courses including anatomy and physiology, zoology, principles of engineering design, foundations of programming, geometry through art, bioethics and the mathematics of money. The sessions take place in a variety of locations throughout the U.S.
At KUSD, students were chosen because of their high scores on Arizona's Instrument to Measure Standards (AIMS) test and quarterly benchmark tests last year. Instruction consisted of varying levels of algebra, geometry, trigonometry, probability, statistics, functions and equations.
Although the test results just came out, two students at WCMS already have signed up for two of the summer courses, which can range in cost from $1,500 to $5,000. Financial assistance is available for those who qualify. At KMS, the students are just now receiving catalogs with information about the available courses, locations and prices. None has committed to attend yet.
WCMS student Loop Swats, 13, will be participating in Introduction to Astronomy at California University in Santa Cruz, Calif. Swats said it took about three hours for the test, and he found the reading, English and math sections easy to understand. The science section, with its graphs and symbols, was a different story, said Swats.
"Actually, I was surprised by how well I did on the test," said Swats. "I'm looking forward to the course because I've always liked astronomy. I want to learn how to identify stars and whether they're hot or cold.
"Hopefully, we'll dip into black holes, which are the most destructive forces in the universe. I'm fascinated by large explosions. I'm really excited and look forward to this."
Paige Lucero, a 13-year-old at WCMS, also has signed up for a course called The Mathematics of Money at California University in Santa Cruz. Lucero said some parts of the ACT test were difficult, especially science, but math was easy because of the preparation she had received in Cobanovich's class.
"I chose my course because I enjoy math a lot, and the experience of being at college will be fun," said Lucero. "I hope that what I learn gets me ready for high school and teaches me how money works. I want to know why prices are set as they are, why they change and how inflation affects them. This is going to help me know what I need to plan for in the real world."