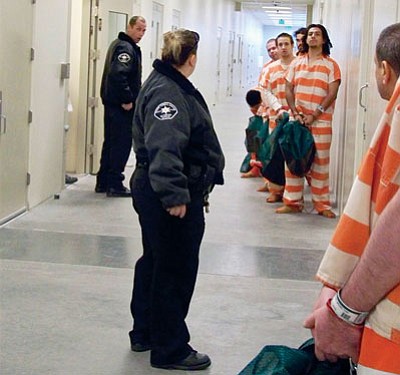 Originally Published: April 12, 2015 6 a.m.
KINGMAN - Mohave County Sheriff Jim McCabe did not exaggerate when he told state Rep. Sonny Borrelli, R-Lake Havasu City, that the county's taxpayers pay a high price to provide health care to the more than 500 inmates, on average, who are in the custody of the Mohave County jail each month.
Borrelli didn't need to be convinced and neither did the Legislature. House Bill 2105 was one of the few bills state lawmakers passed unanimously without any partisan bickering. Gov. Doug Ducey signed it into law last week.
What HB 2105 does is put all 17 Arizona counties on a level playing field when it comes to reimbursement rates for inmate health care through the Arizona Health Care Cost Containment System.
The playing field tilted in favor of Maricopa County in 2011, when the lower ACCCHS rate was changed to apply only to counties with a population of one million or more people. Only Maricopa County met the threshold.
Sheriff's office spokeswoman Trish Carter said the record is unclear as to why only Maricopa County got the benefit of lower costs.
"Frankly, Maricopa County likely had more lobbying power than any other counties and other counties may not have been aware of the impact of the legislation when it was proposed," said Carter.
"I wish we could have got this on last year," said Borrelli, "We could have saved Mohave County a lot of money."
McCabe last week said cost savings to Mohave County would approach $250,000 a year.
Transports
Carter answered questions regarding overall health care for inmates and the numbers she revealed illuminated the high financial cost of incarceration.
In 2014, she said, a total of 64 inmates were transported to the Kingman Regional Medical Center emergency room, 36 of them by ambulance.
Of those, 11 were admitted to the hospital for a total of 64 hospital days.
Additionally, in 2014 the jail had 1,332 physician sick calls and 8,225 nursing sick calls, for any number of maladies.
Carter said inmates are treated for a wide number of reasons.
"A number of inmates have disease, illness or injury upon admission to the jail," she said. "And a good number of inmates suffer from addiction-related illnesses and complications."
For fiscal year 2014, the county paid health care contractor Corizon Health more than $2.3 million to care for both adult and juvenile inmates, with an additional $204,000 spent on off-site health care services - of which Corizon was responsible for the first $200,000.
The most money spent on treating a single inmate occurred over the previous two fiscal years, when the bill exceeded $500,000. Of that, the county paid about $142,000.
Easing costs
"The sheriff's office, jail and board of supervisors have worked to reduce costs with ideas like House Bill 2105, which was initiated here in Mohave County," said Carter. "The sheriff's office has also implemented agreements with AHCCCS and (Mohave County) cities to help alleviate costs.
"Additionally, in extreme cases the sheriff's office consults with the Mohave County Attorney's office to see if the inmate can be released during the health event so that the county is not responsible for the costs."
Corizon Health provides a staff that includes a physician, licensed practical and registered nurses and other health professionals.
Most work onsite and the doctor is on call. There are health care providers in the jail at all hours of the day and night, said Carter.
It's difficult to determine how many of the inmates take medication. Some have serious conditions, such as HIV/AIDS and others receive over the counter medications for minor ailments.
Help for addicts
Carter said a community resource offers an addiction recovery program.
"The jail is currently exploring additional programs that can help prevent recidivism," said Carter, "and is currently out for bid on its medical services contract. The new request for proposals requires that certain addiction recovery programs are offered to inmates."
Inmates with mental health needs are identified during intake and significant efforts are made to reach out to the community mental health providers to coordinate care and services, said Carter.
A number of local churches provide religious services for inmates.
Carter said the challenges going forward are significant.
"The rising costs of medical care will continue to impact the budget," she said. "Many inmates suffer from some form of addiction and/or mental health problem, which also presents a challenge in the sheriff's duty to keep care, custody and control of inmates in the county jail."
Click for home delivery with comics, grocery deals, inserts, TV listings, coupons and more