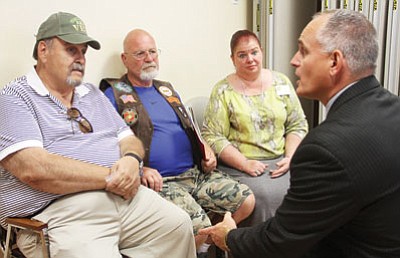 Originally Published: April 12, 2015 6:01 a.m.
KINGMAN - Need prescription medications? Your doctor recommends treatment outside of a clinic? If you're going through the VA, you'll have to go to Prescott.
That's what veterans were telling representatives from the Northern Arizona Veterans Affairs Health System during a town hall meeting at their Kingman outpatient clinic on Thursday afternoon. Around 60 local veterans packed the building and had the opportunity to voice their concerns and have their questions answered about their health care options through the VA.
Issues ranged from the hoops required when receiving emergency care in Kingman to x-rays getting left on the doctor's desk for over four months.
Many of the concerns, however, were centered on access to care, specifically with issues surrounding the Veterans Integrated Service Networks (VISN).
The VA clinic at 2668 Hualapai Mountain Road is equipped to handle primary care services as well as mental health, immunizations, women's health, physical therapy, and more. Full information can before found on their website at http://www.prescott.va.gov/locations/kingman_cboc.asp.
For other procedures, patients are referred to the nearest VA hospital in the Northern Arizona network. That hospital is located in Prescott, over two hours away.
The VISN that Kingman sits in is VISN #18, which encompasses Arizona, New Mexico, and half of Texas. While the nearest VA hospital is in Las Vegas, because Las Vegas belongs to VISN #22, veterans from the area cannot be referred there without extenuating circumstances.
That border lays the foundation for issues with local veterans who need more care than the clinic in Kingman can provide.
The recently proposed change to the 40-mile rule, which states that veterans in rural areas must live at least 40 miles away from a VA health site to receive care at a private provider, was brought up numerous times by veterans in the audience.
As each case was brought up to the representatives, a case worker would take a veteran aside and see if or how they can resolve their issue. They also stressed that emergency care should always be treated at the nearest hospital, and that veterans can resolve their bills with the VA after receiving treatment or by notifying hospital administration at the time of care.
"Our mission is to provide as much care as we can with every penny we have," said Dr. Keith Piatt, Chief of Staff at the Prescott VA and one of the representatives fielding questions
Part of that mission includes programs such as the Patient's Advocate Liaison Service, which aims for each VA to have one to two staff members dedicated to fielding complaints and feedback from their veteran community.
"It's good for the staff to get an earful, as well as for the veterans to hear from each other," said Dr. David Brill, primary care service line manager Northern Arizona Veterans Affairs Health Care System.
Both Brill and Piatt stressed that staffing and how their team communicates with veterans is a priority for the office.
Internet access
Part of that push includes the VA's new online health care portal, www.myhealth.va.gov. According to Dr. Brill, veterans can sign up to have a direct line of contact with the VA concerning their health care.
Veterans can access their lab work, x-rays, notes, and charts online as well as email their primary care technician directly with a three business day turnaround.
"They can talk about anything, and we're open to everything. It's starting to pick up," said Brill.
The VA recognizes that not everyone has access to a computer, so veterans can still call in or stop by the clinic if they have any specific questions concerning their health care. Brill's team is required to return calls the same day.
But even with the recent changes, Piatt recognizes the issues surrounding the VA nationwide. The issues with the VA in Phoenix a year ago were "embarrassing and shameful," with Piatt making aware to the veteran audience that people in the VA are working hard to provide the best service they can.
"It's much better than it was. What we're seeing now is not just a VA issue, but a health care issue," added Piatt.
Click for home delivery with comics, grocery deals, inserts, TV listings, coupons and more