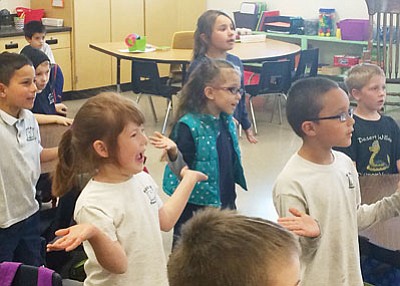 Originally Published: April 14, 2015 6 a.m.
KINGMAN - When 5-year-old Ricky Sandoval enrolls in kindergarten, he'll already be prepared for the all-day class beginning this fall at Desert Willow Elementary School.
"He goes to preschool and Head Start now, so this will be an easy transition for him," said Karen Sandoval, Ricky's mother. "He is really excited about it. And I think kindergarten is a good thing for him because he's going to learn how to read and write."
Ricky, who lives in Golden Valley, already knows that his new teacher will be Amy Vadeboncoeur, who is in her third year at Desert Willow. Ricky met Vadeboncoeur when she was teaching his sister, Cadee Sandoval, now a second-grader, and feels comfortable with the educator.
Kingman Unified School District is among 70 percent of the districts in Arizona offering all-day kindergarten, even though the state only funds half-day kindergarten. KUSD must pay the other half - $550,000 from a grant - to provide the $1 million program, which is serving 543 students this year.
Despite the financial outlay, KUSD officials believe so strongly in the benefits that they're willing to dedicate the money for it. And they remain committed to funding it, despite the threat of continued cuts in their budget and the growing needs throughout the district.
Originally, all-day, no-cost kindergarten at KUSD started during the 2003-2004 academic year, with the state funding the entire amount. But the district cut back to half-day kindergarten in 2009 because of projected massive budget deficits at the state level.
Soon, first- and second-grade teachers began complaining that the promoted half-day kindergarten students were not adjusting as well socially and academically to their classes as the students who graduated from all-day kindergarten.
The KUSD governing board returned all-day kindergarten for the 2011-2012 school year.
"Quality full-day kindergarten programs ensure that children have the time and attention they need from their teachers to be successful learners," said Jeri Wolsey, curriculum director for KUSD.
"Full-day kindergarten provides an essential bridge between pre-kindergarten and the primary grades. It enables children to develop the academic, social and emotional skills they need to be successful."
During the two years prior to resuming full-day, the district had offered optional all-day classes, with parents paying a monthly tuition of $120 to $140 a child to supplement the state's reimbursement for half-day classes.
The state began funding all-day kindergarten in 2005 for all school districts, but the Legislature voted in 2010 to cut funding back to half-day kindergarten because it was facing massive budget deficits.
Wolsey said all-day kindergarten helps children successfully prepare for their long educational journey. During kindergarten, children learn to get along with each other, discover the joy and challenge of reading and writing, and experience what it means to be in school.
Also, there are benefits to all-day kindergarten for educators and the school district, said Wolsey. Teachers have more opportunity to get to know students and to work with specialists to identify and evaluate needs, skills and abilities. School personnel can then help parents develop plans to address children's learning challenges early.
"This saves money and resources over the long term, and increases the odds that children will be successful later in school," said Wolsey. "Attempting to repair reading skills in fourth grade is far more expensive and risky than guaranteeing good reading skills in kindergarten."
Vadeboncoeur said she loves teaching kindergarten because her students, at their young age, enjoy coming to school, working in the classroom and spending time with her. The first few weeks of class involve learning the rules, such as sitting in chairs and standing in line, then the students move on to tackle academics.
"This is not the kindergarten we went to as children," said Vadeboncoeur. "They're not just finger-painting and playing. My kids leave this grade reading, counting to 100 and using phonics skills to decode words. It's not what it used to be. They enter kindergarten as crying lumps of clay and leave as competent first-graders."
The students also take DIBELS, or Dynamic Indicator of Basic Early Literacy Skills, testing so they learn how to be tested and what it means. Everything they experience and absorb in kindergarten is building the foundation for the rest of their academic years, said Vadeboncoeur.
Kevin Curran, principal at Desert Willow for two years and an educator for 27 years, said all-day kindergarten is essential in readying young students for the rigors they will face in the upper grades. During the school year, they learn the social skills and the academic information they need.
All-day kindergarten also helps with other needs, said Curran, noting 86 to 88 percent of the school's students qualify for free or reduced-price lunches. It provides health care through the school nurse, cheap or free breakfasts and lunches, and daytime supervision for the children of the working poor, he said.
"This program is absolutely critical," said Curran. "Not only does it help now, but it does show gains for us down the road."
Click for home delivery with comics, grocery deals, inserts, TV listings, coupons and more